Most of you, our clients, are in the manufacturing industry. Meaning that you manage warehouses full of bolts, machine parts, motors, etc. Aside from the few exceptions to the rule, you are probably well aware of the difficulty finding those parts poses.
Lo and behold, one of our customers can help you diminish the time spent on searching for these things and direct the new-found resources towards something sensible, like building products.
Meet Reelables.
What is the backstory of the company?
Reelables was founded to solve the problem of tracking small items like your keys or medicine that are often lost or left behind. Early on, the founding duo discovered tracking items was a bigger problem for businesses. Missing inventory, late shipments and mis-allocated equipment costs companies a lot of money. Their solution: connect everything to the cloud using low-cost printed electronics.
The company is led by Brian and David, the CEO/CTO co-founders with degrees in electrical engineering, computer science and an MBA. Brian previously started several VC-backed companies in Silicon Valley. David's background is in solution architecture and engineering management.
The two met five years ago at a previous company where they worked on RF energy harvesting. In 2018 they joined up to start Reelables, participated in the Y-Combinator accelerator then moved back to London to grow the team.
Can you describe your product – how does it work, what does it do and where can it be used?
Reelables is an IoT asset tracking platform with Bluetooth smart labels the company manufactures on a production line, in-house. The software platform is location-aware and tracks the location of assets without manually scanning items like RFID. It also has powerful event capabilities. For example, when a pallet arrives in a warehouse, it can keep ERP systems up to date in real time.

Assets are tracked using smart labels we invented. They are incredibly thin, flexible and low cost. They work by sending Bluetooth signals to nearby smartphones and gateways that relay the asset's location to the cloud. We manufacture in volume at our reel-to-reel printed electronics facility in North London.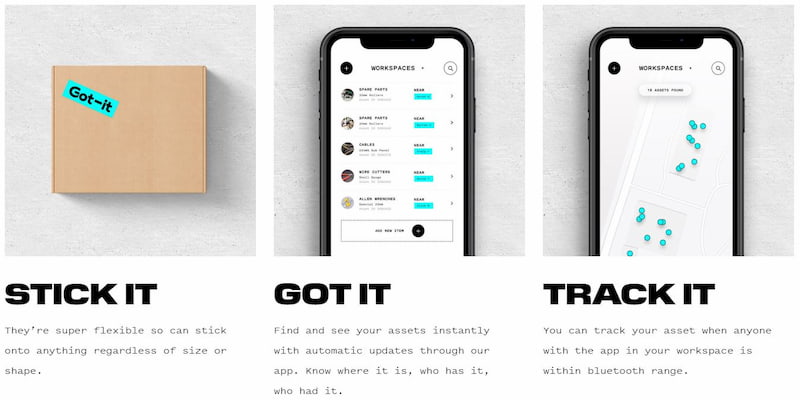 Reelables also makes Got-it, a stand-alone asset management solution that sits on top of the Reelables cloud platform. It is designed to track equipment and inventory going out on truck-rolls. Built-in event processing enables real-time notifications. For example, when a tool gets forgotten at a job site or critical supplies don't match work orders, the application informs a technician or depot manager with a simple push notification.
Our enterprise customers typically use the Reelables platform to integrate into their existing systems, leveraging our location-aware event generating capabilities to augment their existing ERP systems. This includes updating systems and notifying the right person when deliveries arrive. It also provides tracking visibility for individual goods on pallets to identify shrinkage and chain of custody.
What is the battery life of these labels?
Our labels are powered with a thin film battery. We keep track of the battery life and will let you know when it's time to replace the label. Under default settings our current labels last for 1.5 years but can be made to last much longer or shorter when the application demands it.
What industries do you serve?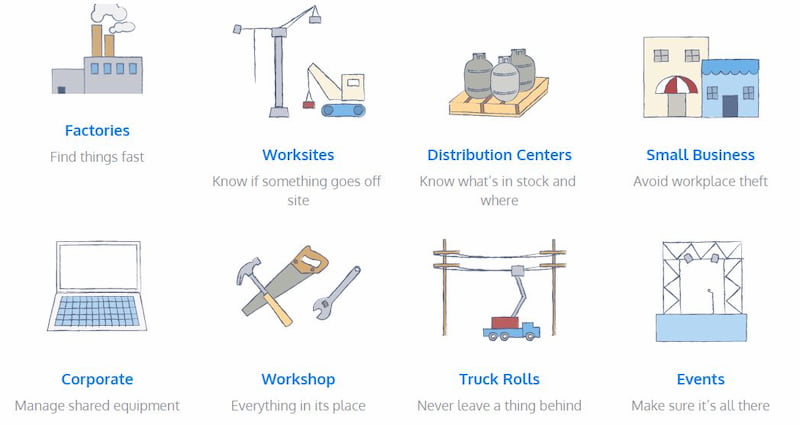 Reelables serves multiple industries and markets ranging from industrial manufacturing to pharmaceuticals and cold-chain monitoring. The primary application of our software platform and labelling solution is track and trace for supply chains.
We're uniquely positioned to provide per-unit location and custody information for assets without expensive infrastructure installation. This is particularly helpful for warehousing and logistics companies working with multiple vendors to support their operations.
What are the next steps?
We're currently launching an application called Got-it, as a full featured, stand-alone asset tracking application for truck rolls. It will be available Q4 this year. Truck operators and depot managers benefit from real-time tracking of supplies and critical equipment necessary for daily work orders. It also serves as an evaluation platform of the labels for other distribution or supply chain applications.
Longer-term, we're looking to expand our software services with customisable data workflows, powered by the data generated from our active smart labels. Our solution is positioned to automate manual processes where previous methods included manual scanning of inventory or cumbersome paperwork.
For example, our labels could automate various health and safety controls by auditing the presence of safety equipment or location of hazardous materials. We also stand to optimise maintenance and repair operations with equipment automatically tracked in the cloud.
Manufacturing-wise, we're ramping up our volume on our in-house production line. We're also in the process of migrating to a printed battery solution.
How has Fractory affected your procurement process?
Fractory has helped us develop our custom reel-to-reel process for producing thin film electronics (smart stickers) on aluminised PET, which differs greatly from traditional PCB production methods.
We really like the platform and instant quoting system as well as the support provided by their first-class employees. Their expertise regarding the manufacturing of certain specialised parts has enabled us to design, build, test and get our line producing over 10 000 labels a day in under 8 months!