We decided to compare our on-demand manufacturing platform to a few of our competitors. You may notice that the list of competitors is pretty short.
While there's quite a few online laser cutting platforms around, many of these are limited to cutting only (Ponoko, Cotter, etc.). Custom parts need custom manufacturing capabilities. Engineering solutions mostly also require bending. Hence, we were left with 3 platforms – Xometry, Fractory and Laserhub.
Manufacturing Cost
For price comparison, we uploaded items to each platform and tested different quantities and materials. Xometry and Laserhub have the options to choose delivery times, while Fractory, for now, has a standard time of 7 days. To make direct comparison possible, we set all delivery times to 7 days.
The delivery address was selected as the country of origin because, for example, Xometry only delivers to the US and Canada.
1 Unique Part per Order


Fractory clearly has the lowest prices. The advantage over Laserhub lessens percentage-wise with growing order sizes. Xometry is 3x more expensive.
3 Parts per Order
We added 2 more parts to the order on each platform and again, tried a few different setups.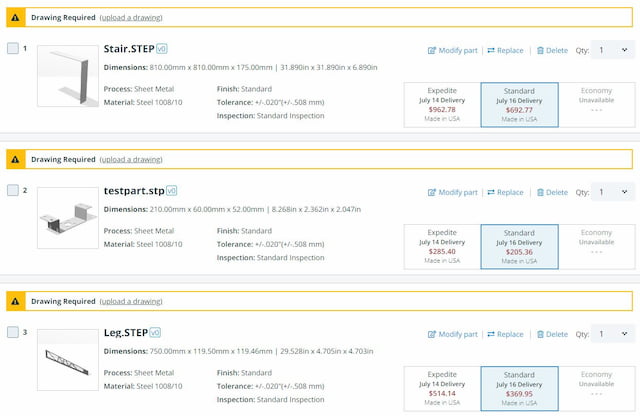 The price difference between Xometry and the other 2 platforms remained high after adding more unique parts. Fractory has the lowest price, though the gap between Fractory and Laserhub (%) lessens with larger orders. Xometry's prices remain higher, by a factor of 2-2.5x.
Price Display
Xometry and Fractory display production prices right in the uploading window. Although Xometry's loading process is longer, both platforms are convenient for design and material comparison.
Laserhub, on the other hand, shows the price on the next page. Therefore, when wanting to see the impact of material change, you need to switch back-and-forth between windows.
Files Needed for Production
All platforms give prices for STEP models. Laserhub and Xometry also require manufacturing drawings for sheet metal bending. Fractory produces parts solely based on CAD models. Eliminating the need for drawings is an important step that saves time with reduced headaches.
An important feature for Laserhub's platform is the ability to upload assemblies. They are able to read the parts separately and give prices for each one. As of today, neither Xometry or Fractory has this possibility.
Number of Technologies
Although the comparison entails sheet metal production capabilities, it is fair to include the number of different technologies here.
Xometry
The platform offers 3D printing, CNC machining, laser marking, injection moulding and urethane casting. Sheet metal fabrication is just one of the services on offer. You can choose the manufacturing method from a drop-down menu after uploading your files.
Fractory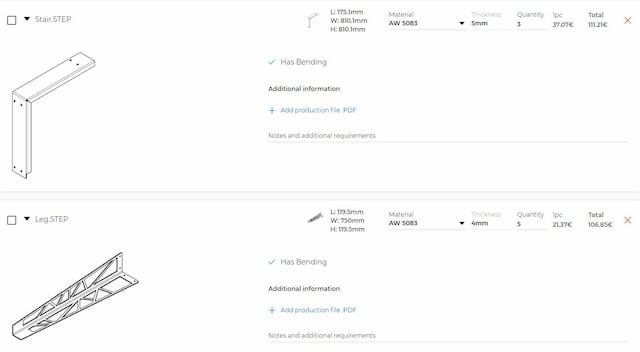 At the moment, the automated platform is solely focused on sheet metal fabrication. Laser cutting, plasma cutting and bending prices are shown instantly. Manual quoting is available for waterjet and flame cutting services.
Laserhub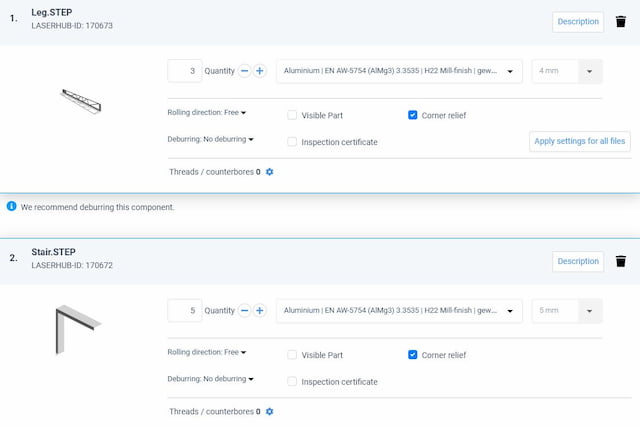 Laserhub also concentrates on sheet metal only. The automated platform encompasses pretty much the same technologies as Fractory. There is no option for manual quotes for waterjet and oxy cutting though.
Conclusion
Fractory offers the lowest prices, while Laserhub is close behind. Xometry's prices are not competitive when it comes to sheet metal fabrication.
Laserhub has an important extra feature in the ability to process assemblies. This makes uploading large orders significantly easier. Still, Xometry and Laserhub both need manufacturing drawings. Fractory can work with models only.
Xometry's biggest advantage comes in the form of different manufacturing technologies. You can get 3D printing, sheet metal fabrication and CNC machining all from one place.
Cloud manufacturing is still in a development phase and each of the above-mentioned platforms have elements to improve. But even in the current state, they offer a more efficient way for ordering metal fabrication.