Our clients come from very different backgrounds and sectors. However, they all have a common denominator – thirst for innovation. This story fits the bill perfectly.
Without further ado, here's our interview with Hentronix who are automating everything related to keeping hens.
What's the background story here? And how did you end up in such a niche?
The founder of the company, Simon, initially enjoyed a successful and busy career as a doctor! One day he decided that it would be a good idea to keep chickens. After some time of hen keeping, he realised that an automatic coop door would make life a lot easier. It's not ideal getting up at 5 AM in the summer and if you're working in the winter, you can't get back home for a 4 PM lock-up.
Looking at the products on the market at the time, he identified that a lot of the mechanisms relied on strings to open and close the coop doors – which is a big problem when there are intelligent predators like foxes or racoons around. Single strings are also unable to open or close side-hinged or horizontal doors, which account for a massive proportion of all coop doors – so there was definitely a niche to be filled.
Simon took a great interest in electronics from an early age and decided to tackle the problem and fill the void. His father, who studied Mechanical Engineering, played a large part in developing the first iteration of our initial self-locking mechanism, which is a sort of linear actuator.
The first version proved to be very successful! Since then, we have added to our product portfolio and we have a process of continual research and development just to be sure we stay one step ahead in what is actually quite a dynamic marketplace.
How big is the local market for such products?
In the UK, a surprising and growing number of people with gardens keep chickens! We have many customers who have several coops, in fact. The other big markets are Germany, Switzerland, Austria and the United States, which is a market we are pushing into quite considerably at the moment.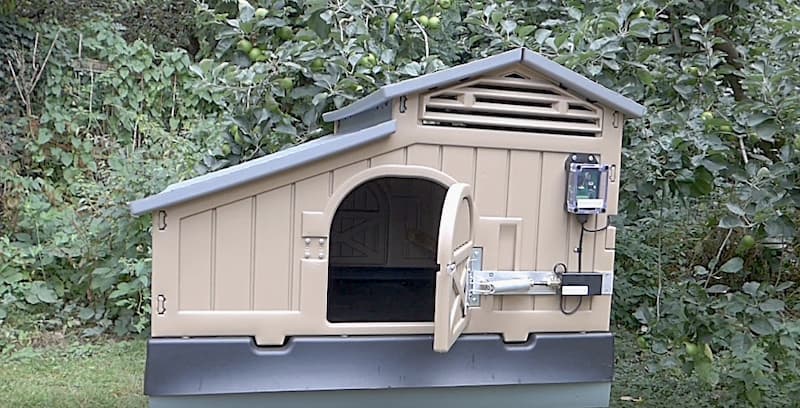 There was an industry-wide surge in demand due to the Coronavirus, presumably when people found themselves unable to get eggs in the supermarket. The growing trend for keeping chickens also reflects the wider interest in knowing where your food (eggs) comes from.
Are the door openers rather for home use or are they also suitable for large farms?
We do have some commercial customers, but at the moment we focus mainly on individual "hobby" henkeepers.
Can a customer order a full set with a coop, automatic door and webcam or do you focus on customised automation solutions for existing coops?
At the moment, we make doors for existing coops – but customers often buy full sets (coop, automatic door – the lot) from our American distributors. We have thought about branching into coop manufacture, but there are so many "irons in the fire" with the automation side at the moment that this is definitely something for the future.
You also use solar panels for powering the technology. What effect has it had on your business?
People across all markets are looking for green solutions, and the use of solar panels has been great for our business. It has enabled us to adopt some quite power-hungry technologies, such as Bluetooth broadcasting, and the soon-to-be-launched Wi-Fi connectivity.
All the while, we are not relying on disposable AA batteries which is the power source of choice for the vast majority of our competitors. Not many customers have mains power right by their coops, so having the ability to generate power right at the coop is great!
Any plans on widening the scope of products?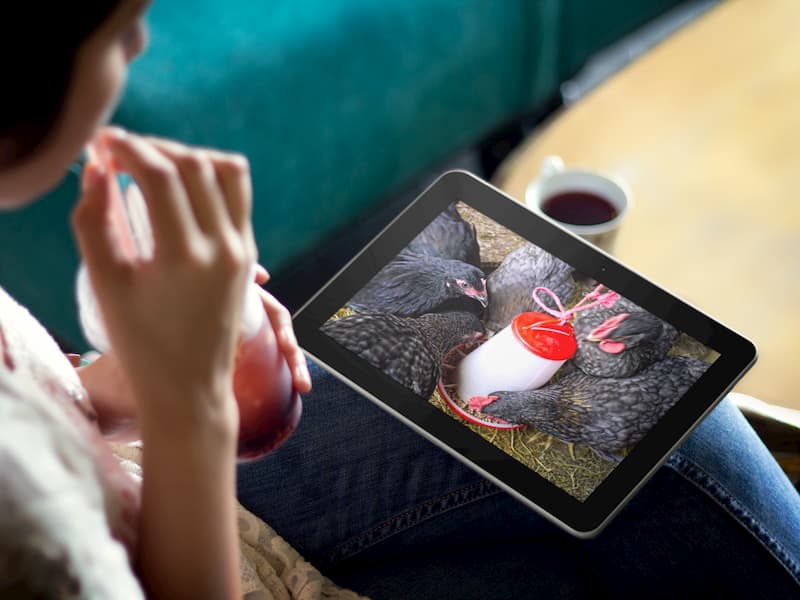 We are currently working on the latest series of smartphone apps, which will enable you to monitor your coop from anywhere in the world using your iPhone or Android. This is going through the testing phase right now, which will take a good amount of time.
After that, we are looking at developing our second generation of webcams, so most of our development is now technology-based.
Any new markets on the horizon?
Not so much new markets, but rather expanding into markets we are currently in. We have just launched a new complete hen coop door assembly which has taken some development.
Also, there are new sizes and custom variations being created for some of our American partners. These companies require high quality doors to fit on the wooden coops they market. It's quite a vote of confidence because American consumers can be very discerning and initial market testing has been very positive!
How has using Fractory affected your ordering/product development process?
Using Fractory has been great! We really like the online quotation process because it helps us to assess viability of products in development, and it has helped tighten our component lead times considerably. We do quite a lot of metal finishing in-house, and Fractory's services really complement our in-house capabilities.
The account managers at Fractory are really keen to make sure that everything is just how you want it, and they are very quick to respond. We requested specific packaging for some of the flat patterns we order through Fractory, and they have been able to be flexible and cater to our requirements even on this level.
We are quite specific about some elements like deburring, and so even though it's a cloud-based system, Fractory can combine a cloud-based element with the sort of person-to-person service you would expect from working with a conventional metal shop.
We're very glad to have Fractory as one of our suppliers and we can see this relationship being continued well into the future!