Looking around our customer pool, there are a lot of industrial clients. But from time to time, we see something very different. Which is why we contacted William Stephenson, a street luger.
Find out what this extreme sport is about and don't forget to watch the videos! These are a sight to behold.
Is it correct to say that we are talking to one of the top street lugers in the world?
Yes, I guess I am, as in 2017 I was ranked number 3 in the World and followed that up in 2018 as number 2. Those two seasons were both incredibly difficult as the street luge field of contestants was relatively small but the quality and competitiveness of that group was very high.
Along with that, I am also the 6th fastest street luge rider in the World with a top speed of 99.41 mph that I achieved in Canada in 2017.
What is luge racing?
I describe it as a cross between the Winter Olympic sport of ice luging and skateboarding. Instead of blades on the underside of the board we use oversized skateboard trucks and wheels, making it essentially a skateboard on steroids!
The luges are also lean steer which makes them very nimble and able to do hairpin turns. Although we only use the power of gravity to propel ourselves downhill, it is not unusual for us to hit over 100 kph during a race. Also, we're racing head-to-head, so there might be up to 4 people battling it out in a high-speed corner.
How did you come to start with it?
I started off playing Tony Hawk's Pro Skate 2 on the PlayStation 1 and then bought myself a skateboard to ride. As it turned out, I couldn't do in real life what I was doing on the PlayStation. I eventually started sitting on my skateboard and rolling downhill to see how fast I could go. Over the years between 2000 and 2003, I got faster and faster.
At the time, I called it buttboarding. Somewhere in 2002, I searched the term online and it turned out that other people were doing it too. And there was, in fact, a World Cup Series and World Championships. In 2004 I went to my first UK event and thoroughly enjoyed it.
At that same event, I also had a go on my first ever street luge. It was like flying on a sofa compared to my buttboard. In 2006, I participated in my first World Championships in Switzerland and have since raced in over 10 European countries along with Brazil, Australia, USA, Canada, South Korea, Peru and Russia.
Which makes the heart beat faster – an MMA match or a luge race?
Oh wow, you found out my MMA days! I've done a lot of stunt and TV work with street luge and wanted to get on the stunt register. Proficiency in a combat sport is part of the criteria, so I took up MMA in 2011. I did a few small competitions and then some semi-pro bowls.
I get the same feeling on both the start line and at the beginning of a round when the line judge or referee asks "Ready?". The mental game of keeping myself focused, preserving my energy, staying relaxed and not thinking about how I'm doing something but what to do and where to place myself is very similar.
What are the top speeds in luge racing?
Top speeds can be very high. I set my record in 2017 when I was invited to Quebec, Canada, to an event to break the record. Along with a small group of other riders over the weekend, I racked up incredibly high speeds.
I was absolutely gutted to have so narrowly missed the 100 mph mark but it was my first ever high-speed event, and most riders had been there the year before. I learnt so much from that and have since developed a specific luge for such events. So if it ever happens again, I'll be ready for it.
Are the requirements high for the boards?
The street luge rulebook leaves a lot of creative freedom which I like. In fact, the first line in the book states "This class is designed to allow maximum design creativity with minimal restrictions. The only restrictions are made in the interest of safety or to retain the basic concept of a street luge."
The main requirements address weight and size – less than 61 cm wide and 300 cm long, under 25 kg. Also, there are rules for bumpers and sturdiness.
There are a lot of different design concepts out there along with a variety of materials to use, making it very interesting to see what route other competitors go down.
Have you always made your own boards?
I've been making boards for a very long time but recently haven't had a workshop, time or space. I used to work in a Design and Technology department at a school, giving me access to equipment there along with my own workshop. Changing careers and moving has left me with less to create with.
The sheet metal design I use makes it modular and easy to switch out components to change specifications such as the ride height, weight, material choice, etc. This gives me options when it comes to racing. For example, I can switch between a longer dropper on the rear of the board so that I can choose either 8 or 6 wheels, making the board lighter and easier to push.
How does someone interested start with the sport?
The best way is to get in touch with me via my Facebook or Instagram and I can point you in the direction of another rider in your area or a group that can help.
I also run "taster days" for complete newcomers. They get a complete race street luge along with all the protection including leathers, helmets, gloves, shoes, etc. and coaching from myself and other top riders.
How has Fractory affected your production? And do you also sell the boards?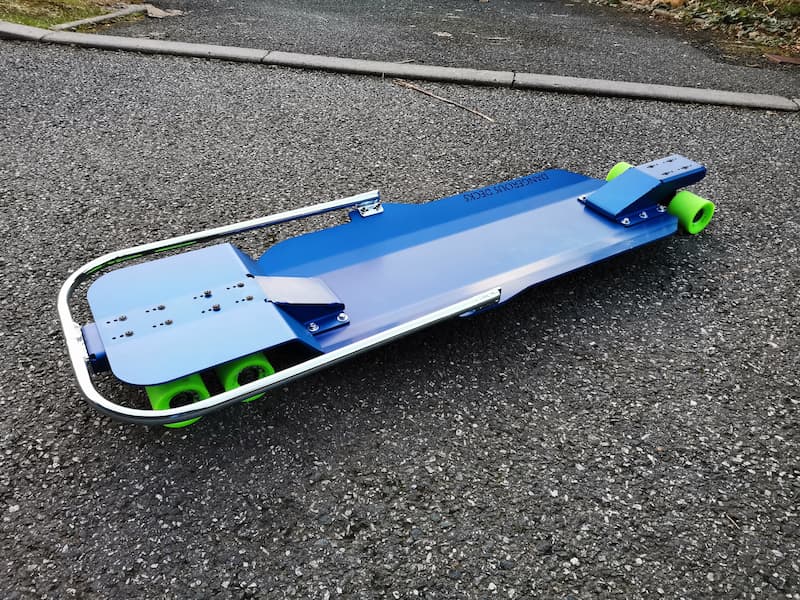 The Fractory platform has made it easy to switch between design and prototyping to production. I can both easily make one-offs for myself to test and race with, then do larger bulk orders for the production version.
I've recently done my first large order of street luges which all sold out very quickly. With Summer coming up, I will be hopefully putting in a new order soon!