Laser Cutting Online Quote
Laser Cutting Price – Step-by-Step
Upload your CAD files for an instant laser cutting and bending quote
Choose the material parameters
Choose the delivery address
Accept the quote
Fractory's system sends it to production
Delivery in 9 days or less
Upload Your Files
The first step to getting a laser cutting quote online is uploading the necessary files. You can either upload a 3D model (supported formats: STP, SLDPRT, IPT or a DXF drawing. The former gives you instant prices also for jobs that include tube cutting, metal bending and CNC machining.

3D CAD files are the preferred option as they can be used for automatic price quotes for both cutting and bending. DXF can only give you an instant laser cutting price.
We have written an instruction how to design your parts and drawings for successful pricing. Another article provides a list of free CAD software, if you don't already have one.
Choose the Parameters
Material thickness is read straight from the 3D model. You can select the desired material and quantity from the menu. If using a DXF drawing, you can also select the material thickness from the menu.
If you need extra operations, certain tolerances, etc, just provide your instructions in the written box or enclose a PDF drawing.
Material Selection

You can choose a material with the right properties for your need from the drop-down menu. Our metal fabrication platform gives you prices for a wide range of materials. They include structural steel, stainless steel, aluminium etc. The number of materials on the platform is constantly growing.
The same applies to material thickness. We have sheet metal (up to 6 mm) as well as plates (above 6 mm). If the menu doesn't include what you are looking for, ask for a laser cutting price manually. Our services are not limited to the materials in the menu only.
After selecting the material, you can determine the needed quantity. All the while, our algorithm is calculating on the side and updating cost according to inputs.
Bulk Selection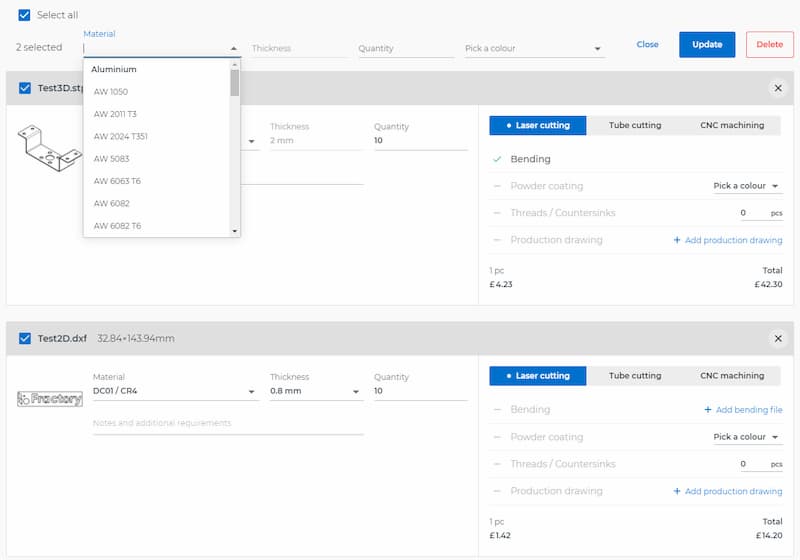 If you have uploaded multiple drawings, you can assign the materials in bulk. Just tick the boxes in front of the details that the same parameters apply to. If the thickness and material are uniform within all parts, you can just check the "select all" box before assigning them. This way you can easily save some time.
Check Dimensions
Neither the drawings nor 3D files include any dimensions, as laser cutters can work without them. To check that all the information is correct, we have included the general dimensions of each part on the ordering form. It is just next to the part name. You can use it to check if you got your drawing's scale right.
Surface Coating Price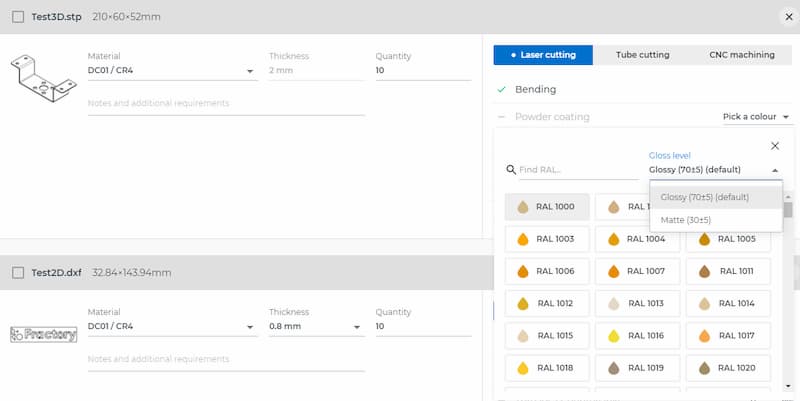 The price quote includes the following features – laser cutting, bending, threading/countersinking and powder coating. If you have any specifications, please add them to the commentary section. Laser cutters leave an aesthetically pleasing finish, so usually, no post-processing is necessary.
If your part includes threaded/countersunk holes, indicate the number of such holes and add a PDF drawing to show the specifications. These include thread sizes, etc.
The next step is filling in the delivery address.
Accepting the Laser Cutting Quote
After you click "proceed to checkout", you are asked to fill in your shipping details. Those are linked to your account. Therefore, there is no need to refill it every time you place an order. You can also add numerous different addresses, so you can quickly select the right one from the existing database if your company has more than one warehouse.

If all is correct so far, the "proceed to payment" button appears. From there, you are presented with options for payment. Those vary by country and we are constantly adding new ways to allow different possibilities for paying. All for the convenience of our customers.
Manufacturing
After the payment is done, our algorithm selects the best-suited manufacturer from a list of partners. They are located all over the UK, so we can keep the lead times short and at the same time, have great competence at our disposal. 
Some manufacturers are experts at aluminium cutting, others may be better with stainless steel. Quality is our main focus. This wide selection also gives us the possibility to go for the best price – sometimes it is cheaper to get the parts in bulk from a supplier further away.
We have both CO2 and fibre laser cutters available. This ensures we can cut any kind of metal, reflective or not.
Packaging
We have given out instructions to our partners to make sure that the packaging is nice and tidy. Our customers have given great feedback on this because pallet loads of scrambled parts make for a headache. Having everything nicely packed with the right documentation to go makes for an easier life on the production floors.
Delivery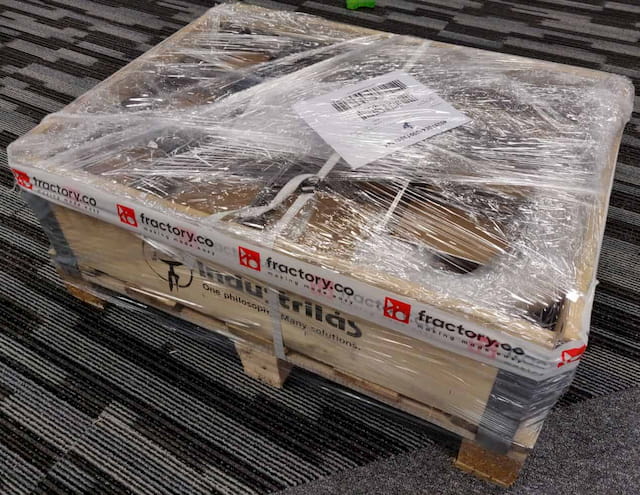 Our focus is on laser cutting UK but we are ready to deliver elsewhere as well. As said, we have partners all over the world. Besides the UK, we have delivered parts to the United States, the Baltics, Scandinavia, etc. You just have to provide an address and we take care of the rest.
Again, standards apply to our carrier partners. This means that you can expect your parts in good condition, even if they have travelled a long distance to land on your doorstep.
Other Services
We don't limit ourselves to only metal cutting and bending. We also offer CNC machining services, etc. Although some operations like waterjet cutting and plasma cutting are not fully automated yet, you can still send in your requests manually. Fractory sales engineers will answer you shortly.
Get your laser cutting quotes instantly with Fractory!