CAD stands for computer-aided design software. Simply put, these are computer programs that allow users to create 3D models and 2D drawings of products in the design phase. CAD software is an excellent tool for visualising the product concept and creating the necessary documentation for production.
But 2D and 3D CAD programs can be expensive to buy or subscribe to. Additionally, there are so many alternatives to choose from that finding the right fit becomes a difficult task in itself.
This is why we created this article listing some of the best free CAD software. Additionally, we have added some trial versions for the most well-known powerful CAD programs around.
What Makes Computer-Aided Design Software a Necessity for Engineers?
Computer-aided design software has pretty much completely replaced manual drafting. From being a coveted luxury in design, CAD software is now the default design tool in all sectors of engineering.
In recent years, its ability to ensure communication/collaboration through cloud storage and seamless integration with CAM and CAE systems has significantly increased its proliferation and ubiquity through the design space. The software allows us to create highly complex 3D designs that can take full advantage of the CAM possibilities of today to deliver truly amazing results.
Computer-aided design software further provides many additional functionalities such as analysis, modification, and optimisation of the design prior to manufacturing. The designers can rectify any design errors in the 3D models before the manufacturing phase begins. Making small changes to see how they improve the overall aesthetics and functionality of the product is made very easy.
All these great advantages with little to no disadvantages have made 2D and 3D CAD software a necessity in modern design setups.
How to Choose the Best CAD Software?
There are many different types of CAD programs available in the market. The best CAD software for an application changes from case to case as it depends on many factors such as the desired capability, pricing, application, and ease of learning. One must ask himself the following questions to choose the right CAD software for himself.
What is the purpose?
This is the most important factor that will determine the best CAD software for one's needs. Companies create CAD software with a certain target audience in mind.
Some software is designed with lots of functionalities that can be used in a variety of fields (general-purpose software such as SolidWorks), while others are designed with a focus on specific niches such as automobile design (e.g. CATIA).
Most free CAD software does not have a specific focus but they still differ from one another.
What features do you need?
Modern CAD software provides a wide range of features. Some software can get really bulky, demanding higher storage and computer processing power from the user. But if finite element analysis, topology optimisation, generative design, etc. are all part of your project flow, these features can be found in many CAD packages.
It is best to opt for features that are most relevant to the application that the software will be subjected to. Writing down a list of your desired features can significantly narrow down the search for the perfect CAD software for you.
Level of expertise
If you are a student and/or a beginner, it might be better to start with CAD software with a short learning curve. Features that help beginners must be given preference. These are:
A uniform interface throughout the program
Free learning material
An active online community for common questions
If you are an advanced user, you need to give a thought to features such as:
The CAD program's feature set meets all your needs
It is natively interoperable with relevant solutions such as simulation
Can import/export all relevant file formats
The development team is active and regularly introduces new features to keep up with the latest trends
Free 3D CAD Software
We will be starting out with 3D CAD software. The advanced features of 3D CAD have become essential tools from the point of mechanical engineering. All in all, this has proven to speed up the design process by 45% compared to 2D drafting programs.
But these CAD programs can be costly. In many cases, the monthly subscription fee of 3D CAD software can be significantly higher than the lifetime fee of a 2D CAD alternative. This leads to many users looking for free 3D CAD software or professional-grade software with extended trial periods.
We have compiled a list of 3D CAD programs that are either free, have long trial periods or come at a comparatively low cost. If you're looking for a great 3D CAD program, you can select one from here:
OnShape
Fusion 360
FreeCAD
Sketchup
Autodesk Inventor
Solidworks
Onshape is a 3D CAD software designed by a team that initially worked for SolidWorks. Among fully free 3D parametric modelling software, Onshape is one of the very best.  There are some very useful advantages in preferring this CAD software over its competitors for 3D modelling.
To begin with, Onshape has parametric modelling. This means the feature tree records every operation (model history) to support as many edits as needed. Onshape is a feature-packed 3D modeller at par with many paid alternatives. Yes, it may not have all features (FEM support for instance) when you first start but they can be easily added via 3rd party apps from the App store. Most of the apps in its App store are free as well.
In addition to these apps, Onshape can load feature scripts from the community to generate custom geometry. Users also have the option to write their own code for it. These feature scripts allow quick access to difficult to design parts.
Onshape is a fully cloud-based 3D modelling software. All you need to do is sign up for an account and start using it. No installation, only login.
Being completely cloud-based has several benefits. One of these is the auto-save function. There is no need to save regularly out of fear of losing work. It also helps users pick up where they left off when working from home. Also, the CAD software never crashes as it is independent of the hardware of the computer it is being used on.
Another benefit is the availability on all platforms which allow you to connect to the internet. This also boosts collaboration and communication efficiency. It works like Google Docs where multiple users can access the same document remotely and make edits on it simultaneously. There's absolutely no need to save files to share via email or other channels.
An underrated advantage that Onshape offers is that it offers quality STL printing. Only those who have used other free CAD software (such as SketchUp) to create STL files to manufacture complex parts will understand the value of a watertight STL file. Onshape creates files that are perfect for CNC manufacturing methods such as laser cutting or additive manufacturing methods such as 3D printing.
Supported file formats
Imports Parasolid, ACI, STEP, IGES, CATIA v4, CATIA v5, CATIA v6, SolidWorks, Inventor, Pro/ENGINEER, Creo, JT, Rhino, STL files, OBJ, NX, DXF, and DWG.
Exports Parasolid, ACIS, STEP, Pro/ENGINEER, Creo, JT, Rhino, NX, SolidWorks Pack and Go zip files, DXF, DWG, PDF, and DWT.
Assemblies can be exported to Parasolid, ACIS, STEP, IGES, STL, and Collada.
Operating system
Owing to it being a cloud-based CAD software, Onshape can be used on all platforms such as Windows, Linux, and Mac OS. Similarly, it works well on iOS as well as Android devices.
Pricing
The free version is free with few limitations. Also, the professional edition has a 14-day free trial.
For the paid version, there are three packages: Standard, Professional, and Enterprise.
The Standard plan is also free for students, educators and hobbyists.
Fusion 360 is a cloud-based 3D CAD/CAM/CAE software first released by Autodesk in 2013. It is largely considered the best free CAD software around because of its advanced features.
Fusion 360 seamlessly connects the dots between design and fabrication by offering capabilities such as conceptual design, simulation, rendering, and CAM integration. As such, Fusion 360 is perfect for small to medium-sized businesses that need a solution to integrate their entire manufacturing process.
Fusion 360 has a neat and simple user interface. The intuitive interface is easy to get the hang of, making it suitable for novice CAD users while having the advanced features of premium software also present.
The organisation setup is quite modern with its palettes, tiles, menus, and toolbars compared to older Autodesk counterparts such as Inventor. The right-click menu, for example, brings the most used tools to the top and also offers the click and drag ability to quickly access common CAD tools.
Similar to Onshape, Fusion 360 is a cloud-based 3D CAD software. It uses the power of the cloud for intensive tasks such as rendering and FEA which allows you to use Fusion 360 on lower spec devices with relative ease.
Cloud support is also great for excellent collaboration and communication between teams working on the same project. Multiple users can edit the project in real-time. When done, the program saves the work on the Autodesk cloud. You can also export a copy to your local machine.
An advantage that Fusion 360 has over Onshape is that, with the local copy, you can continue to work offline. The only drawback is that you cannot translate files into Fusion 360 without an internet connection.
Fusion 360 has free-form and solid 3D modelling tools integrated seamlessly. It can carry out 3D modelling, animation and rendering flawlessly. Getting the parts ready for CNC manufacturing methods like laser cutting is also easy.
Use your .STP files to get an instant manufacturing quote online
Quote in seconds

Short lead times

Delivery by Fractory
Get quote
Supported file formats
Fusion 360 currently supports file formats such as .3dm, .asm, .cam360, .CATPart, .CATProduct, .dwg, .dxf, .f3d, .fbx, .g, .iam, .ige, .iges, .igs, .ipt, .neu, .obj, .prt, .sab, .sat, .skp, .sldasm, .sldprt, .smb, .smt, .ste, .step, .stl, .stp, .wire, .x_b, .x_t, .123dx.
For 2D drawings, it supports .svg, .dxf, and .dwg files.
Operating system
One can use Fusion 360 as a native application on Windows and Mac or as a web app.  The license is connected to one's Autodesk login and not to a particular device. F360 apps are available for Android and iOS platforms too.
Pricing
Fusion 360 has a free trial period of 30 days after which an interested user may subscribe to a monthly, quarterly, or yearly subscription.
Fusion 360 is free for startups with annual revenue less than $100,000 and age less than three years old with fewer than 10 employees. Such a startup gets a 1-year license which can be renewed at the term-end provided it still meets the above qualifications.
It is also free for hobbyists for 1 year provided the use is for non-commercial purposes. The same 1-year free license is equally available for a student and an educator.
Subscription to complete functionality of Fusion 360 is available at the following prices:
Monthly: 60 USD
Annually: 495 USD
3-yearly: 1335 USD (Highest value for money)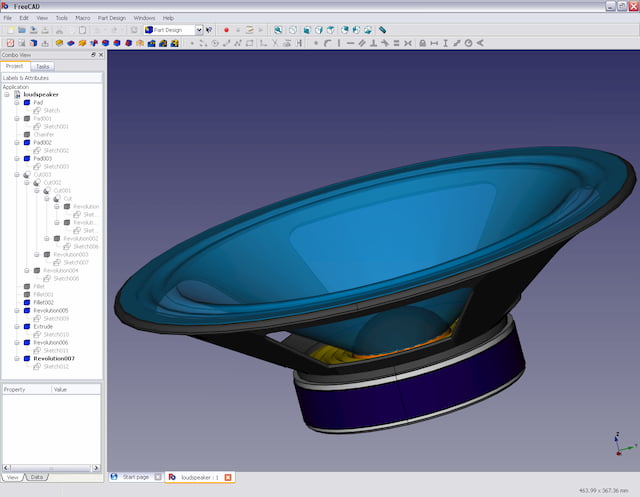 FreeCAD is an open-source 3D modelling software that has gained traction in the last few years. It is a completely free software alternative for expensive CAD programs.
With the number of features it offers, it can easily be compared to expensive industry giants such as SolidWorks. The two of them have similar constraints and tools. And even relations such as tangent, symmetric, and horizontal remain the same. Features such as extrude, revolve, loft match with professional-grade programs. Surfacing with this free CAD software is especially good due to some added features.
For the user interface, FreeCAD has implemented a full GUI mode as well as command-line interface capability. After a few hours of practice, you will be able to navigate all the buttons easily. Just like SolidWorks, FreeCAD can define hotkeys for quick use during design. This way, users can reach for the hotkeys with one hand and use the mouse with the other, significantly speeding up the design process in FreeCAD compared to its paid and other free alternatives.
When it comes to simulation, FreeCAD can perform FEA. The visualisation tools and analysis are quite advanced. It has mechanical and thermal analysis capabilities that can achieve higher resolution in desired areas for mesh analysis.
As one of the most interesting features, it can also perform CFD analysis. Features such as making assemblies, exploded views, and tracking degrees of freedom across the entire range of assembly components are a definite advantage.
The software is capable of updating the BOM as well as creating drawings of the assemblies. It has a vast range of symbols needed to create technical documentation. Presently, FreeCAD has no support for geometric dimensioning and tolerancing but users have developed some workbenches that add GD&T features to FreeCAD.
All the above benefits make it a complete 3D CAD/CAE solution. An added advantage is that since many features match with professional-grade software, transitioning from FreeCAD to other industrial CAD is pretty smooth.
Users looking to make themselves more marketable in the CAD space can use FreeCAD as a stepping stone before moving onto the expensive industry-preferred 3D modelling software. The availability of copious tutorials and communities on almost every social media is a plus point.
It is the perfect CAD software for someone looking for great functionality while not willing to pay for using a CAD program.
Supported file formats
Imports as well as exports in SVG, DXF, STEP, STL, IFC, SCAD, OBJ, IV, DAE, and IGES.
FreeCAD's native format is .FCStd.
Operating system
Like LibreCAD, FreeCAD is based on the Qt library making it work flawlessly on multiple operating systems. It works on Mac OS, Linux, Unix, and Windows. At the time of writing this article, FreeCAD doesn't offer a web app or mobile support.
Pricing
Free
Sketchup is a 3D crafter developed by Trimble for industries such as engineering, architecture, interior design, and video game development. Sketchup has two web-only versions (Sketchup Free and Sketchup Shop) and a desktop/web version (Sketchup Pro). The web-only versions are used as web apps through browsers.
The Sketchup UI is simple yet intuitive. There is some difference between the UI for the free version and the paid version. For Sketchup Free, the different CAD tools and features are rolled up into toolbars on the edges of the modelling window, making it appear cleaner. In the left-hand side toolbar are the different sketching tools, and clicking them opens up more options. For instance, clicking on the Line tool gives the option to either draw a line with two points or freehand.
On the right-hand side toolbar are important features such as outliner, 3D warehouse and tags. The 3D warehouse, a unique feature of SketchUp, stores millions of ready-to-go 3D models sorted by categories. Anyone can add to it or use the 3D models from this warehouse for their designs. Free users get 100 downloads a day or 1000 downloads a month, which frankly, is a lot, and users rarely approach this limit. This saves the designer plenty of time in 3D modelling a variety of different parts. The UI also allows for keyboard shortcuts (R for Rectangle, C for Circle, etc.)
The free version offers a limited 10 GB cloud storage compared to the unlimited storage in Shop and Pro versions. The Free and Shop versions do not work offline. The Free version's license only allows non-commercial use. A limitation of the free option is the inability to use extensions due to it being a web-based program.
It is important to note here that Sketchup does not process nor export STP files and separate converters should be used for that, so the free CAD software is not best suited for mechanical engineers.
Supported file formats
Sketchup Free
Imports SKP and STL
Exports STL and PNG
Sketchup Shop
Imports SKP, STL, DWG, DXF, DAE, KMZ, 3DS, and DEM
Exports STL, PNG, DWG, DXF, DAE, KMZ, 3DS, FBX, XSI, OBJ, and VRML
Sketchup Pro
Imports DDF, IFC, IFCZIP, BMP, JPG, PNG, PSD, TIF, TGA, and PDF (Mac Only) besides everything in Sketchup Shop
Exports SKP, IFC, WRL, JPG, PNG, TIF, EPS, and PDF (Mac Only ) besides everything in Sketchup Shop
Operating system
Since Sketchup Free and Shop are web-based apps, they can be used on all operating systems. Sketchup Pro supports Mac OS and Windows platforms.
All three support model viewers for iOS and Android devices.
Pricing
Sketchup Free is free to use and paid versions have a 30-day free trial.
Sketchup Shop – USD 119/ year
Sketchup Pro – USD 299/ year
On request, Sketchup also provides a full refund within 14 days of purchase.
Developed by Autodesk, Inventor is the go-to product design software for mechanical design. It provides a world-class 3D modelling, documentation, and product simulation solution to manufacturers. The design can be a blend of different methods such as direct, free form, parametric or rules-based.
Inventor is available as two models: Inventor and Inventor professional. The standard software has all the CAD features necessary for a good mechanical design. Its professional counterpart adds advanced tools such as dynamic simulation, cable & harness,  tube & pipe environments, stress analysis and frame generator which is very handy for large-scale factory design, for example.
They both use the same file format and files can be read easily from either variant. Files from Inventor Professional, however, cannot be edited in the standard version, except for drawings, parts and assemblies.
Autodesk Inventor has a pretty standard interface found in many other Windows-based applications. The main window consists of the ribbon, the graphics window, the application frame and the browser. Even for a beginner, it is easy to learn Inventor due to the abundance of study material and video tutorials available online.
Although the professional software comes with a hefty price tag, we included it in the free CAD article based on the trial versions. The reason is that Inventor is a very powerful professional software that is widely used in the industry.
Supported file formats
Imports STL, DXF, OBJ, DWF Markup, and IDF, STEP, Solid Edge, Solid Works, SAT, Rhino, ProE, NX, JT, IGES, Creo Parametric, CATIA V4 and v5, and Alias. 
Exports in most of these formats as well.
Inventor itself uses .ipt for part files, .iam for assembly files, .ipn for presentation files, and .idw/.dwg for drawing files.
Operating system
Autodesk Inventor is available only on Microsoft Windows as a native application. Windows 10 is needed for Inventor 2021 and 2022. The last release to support Windows 7 was Inventor 2020.
There is no native application for Mac as well as Linux-based computers for this CAD software. However, it is possible to use Windows-based Inventor on these machines through either a Bootcamp, a Virtual Machine, or remote access of a Windows-based computer.
Inventor does not have versions for mobile phones but it allows sharing views of drawings/models through a link. The 2D drawing/3D model can be accessed via a browser on any device for viewing purposes.
Pricing
A user with a regular 30-day free trial needs to subscribe to Inventor after the 30-day trial period expires. Inventor 2022 is available at the following pricing options.
For a teacher or a student, Inventor provides a 1-year educational license for free which is renewable as long as one is eligible.
Monthly: 275 USD
Annually: 2190 USD
3-yearly: 5915 USD (Highest value for money)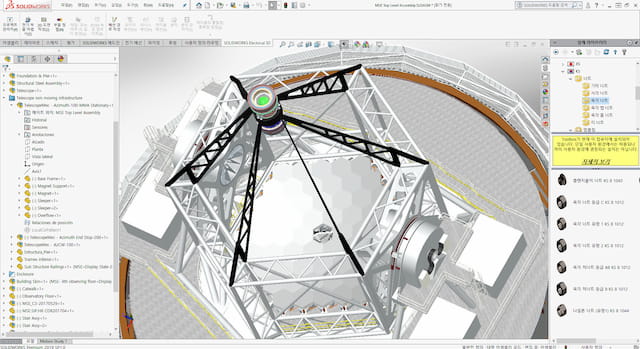 Dassault Systèmes is the creator of SolidWorks. It is one of the most popular 3D CAD software tools in the market offering a complete 3D solution to draft, model, simulate, print, analyse and manage 3D designs.
For 3D modelling/prototyping, SolidWorks has many features that just make it so much easier than alternative CAD applications. The wide product tree helps with technical drawing preparation. Complex assemblies are easy to make, the rendering is realistic, and the simulation reports are decent.
The one thing that almost every user appreciates about SolidWorks is the easy-to-use interface. Its GUI beats Abacus, CATIA, and Ansys. The menus are easy to navigate. Hovering over tools shows what they can do which is especially helpful for beginners. SolidWorks places the commands as close as possible to the cursor to retain the user's attention on the modelling screen and away from the command menus. Just a right click on the mouse or keyboard shortcuts are sufficient to access the majority of the available commands.
The UI also integrates the different aspects of the process such as manufacturing, costing, assembly and also integrates FEA into the software in an intuitive and streamlined manner. The simulations and animations are easy to use and the toolbox has many worldwide acceptable standards. It is great for CFD analysis and FEA.
SolidWorks has a heavy influence in the mechanical design industry. This has led to a very active community for help with any tasks or issues. There are plenty of video tutorials and helpful documentation online for beginners as well as advanced users. In addition to all the above resources, the development team extends prompt and effective customer support when needed.
Similarly to Inventor, SolidWorks is premium software that does not really belong to the free CAD software category. But as it has a very large dedicated community among the mechanical engineering crowd, we shall bring out some options to get your hands on a free version.
Supported file formats
SolidWorks supports a wide array of file formats such as .dxf, .dwg .psd, .ai, .x_t, .stp, .sat, .igs, .iges, .vda, .wrl, .stl, .cgr, .prt, .asm, IFC, .ipt, .iam, .psm, .asm, .ckd, .dll, .emn, .brd, .bdf, .ibd, and .3dm. Knowing which format to use can be a bit tricky as this list includes all file types such as 2D path, 3D mesh, and 3D solids.
The accuracy with which SolidWorks imports each format varies. For example, with some, you may be able to import the history and not with others.
Operating system
SolidWorks is available on Microsoft Windows as a native application. There is no native alternative for Mac OS and Linux but it can be used there through a bootcamp or through a VM. SolidWorks is not recommended on Mac as these machines rarely have supported graphics cards.
There is no mobile alternative for SolidWorks either. However, there is a lighter version of SolidWorks known as eDrawings. With the added capability of AR/VR, users can review and collaborate on SolidWorks' 3D models on iOS, Android, and Mac besides Windows.
Pricing
SolidWorks isn't big on trials. If you are not a student, SolidWorks offers a two hour trial over a period of two days. When this trial expires, it can be extended for another two hours. If you need more time with the trial version, a 7-day unrestricted trial period can be arranged through a reseller.
For educational purposes, SolidWorks offers a 60-day educational license obtainable through the official website.
SolidWorks comes in many different packages depending on what services are needed and who is going to be using them. The paid plans are named Standard, Professional, and Premium.
The standard model costs USD 3995 with an annual maintenance fee of USD 1295. The professional model costs USD 5495 with an annual maintenance fee of USD 1495.  For the premium model, the cost is USD 7995 with an annual fee of USD 1995. For each of these models, term licenses for 3 months or a year are also available as needed.
Free 2D CAD software
Although mechanical engineers work mostly with 3D software, 2D programs still have a place in the industry. These programs are especially suitable when making flat parts as this means that having 3D models doesn't really have much of an edge anyway.
We have compiled a list of the best free CAD software for 2D drafting. It includes the following software.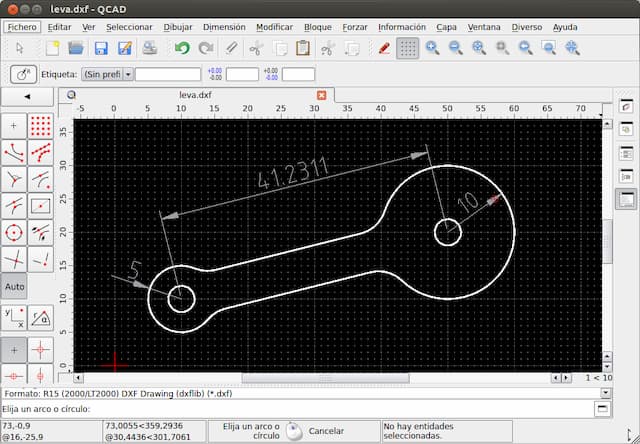 QCAD is probably the best among free CAD programs for 2D drawings. It is a complete 2D CAD solution with a short learning curve and many advanced tools. The user interface is intuitive and quick to grasp. It can be learned without any prior CAD experience making it an ideal CAD software for beginners. It has support for both imperial as well as metric units. Some people prefer QCAD for graphic design as well.
The design intended to make QCAD a highly modular, extensible, and portable design software. The software is capable of creating detailed technical 2D drawings of building plans, interiors, mechanical parts, and schematics. It has a vast library with over 4800 CAD parts for construction and modification. To help navigate through these resources, QCAD has an active user community and tutorial videos on the internet.
Designers, analysts, engineers, and developers that use QCAD on different levels within manufacturing and construction are impressed with its benefit and value in their work. It is capable of creating complex 2D designs while needing a low amount of resources and having few requirements.
In addition to creating, the software can easily import and modify existing CAD files. Features such as print and layout are especially easy to use with QCAD. Another pro of using it is that it has excellent customer support. It is one of the best free CAD software to begin with if someone is seeking a professional edge over competitors in a short amount of time.
Supported file formats
Imports DXF, DWG, SVG, CXF, JPEG, BMP, PNG, TIFF, XBM, XPM, and ICO.
Exports DXF, DWG, BMP, CXF, PDF, and SVG files.
Operating system
QCAD works flawlessly on Windows, MAC OS X, and Linux. Presently, it is not available as a web app or on any of the mobile platforms.
Pricing
QCAD provides free CAD software as well as a free trial of the paid edition. The free version is a community edition that lacks some features compared to the paid alternative.
Its paid version is known as QCAD Professional. The difference between the free and the paid option can be seen here. The features marked in blue italic are available in the paid software only.
The paid software (QCAD Professional) costs USD 39.00 and can be purchased directly from the official website as well. It is a one-time licensee fee per user. No monthly or yearly fees. It is buy once, use forever. The updates are, however, limited to one year post-purchase. After that, the access to updates can be extended at a 30% discount. The pro edition allows installation on multiple computers for a single user.
QCAD also offers a CAD/CAM application at a flat one-time payment of USD 105.00. It has all QCAD Professional features and CAM features such as G-code export and nesting module.
There are other packages available designed for educational institutions and organizations. All packages are available on the official QCAD website.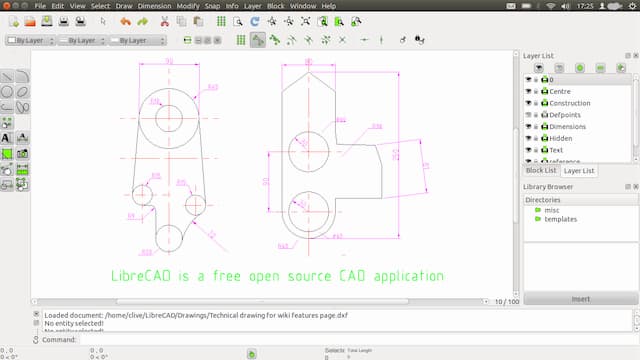 LibreCAD is an open-source 2D free CAD software. It started as a project with the intention to add CAM capabilities to the community edition of QCAD. Over time, more features were added to it that have made it an appealing CAD software for beginners as well as advanced users. Today, LibreCAD is one of the best free 2D CAD software.
The LibreCAD UI is uncluttered and it is easy to locate features especially if you know your way around AutoCAD. It is simple yet intuitive. The interface is based on Qt5 for the LibreCAD 2.2.0 (Qt4 for LibreCAD 2.0.0) series which makes it a truly cross-platform application. It also makes LibreCAD's appearance a highly customizable one while working the same way on different platforms.
The software can draw, dimension, add text, consult, modify, search, measure, and print 2D drawings. Each of these features can be considered in detail. In the program, the interface consists of the menu on the left, the drawing area in the centre, and the layers on the right where they keep appearing as you create and order them. This is extremely useful as there is no need for commands or to search multiple menus when seeking the different drawing tools.
LibreCAD is completely free which can lead to the idea that it would be mediocre. This couldn't be further from the truth. Some great features of this software are as follows:
Drawings support multiple layers
Variety of drawing and altering CAD tools that enable the digitisation of topographic outlines rapidly
Currently supports over 30 languages
Flexible internal plugin system to activate/deactivate features
Small size (27 Mb)
Auto-save feature
A large community of active users aids in finding tutorials and help quickly
This design software offers features that are specific to paid CAD software at the unmatched price of free. It works great for 2D designs but can also create 3D footprint designs for your 3D modelling project.
Supported file formats
Imports DXF and DWG.
Exports DXF, DWG, SVG, LFF, CXF, PDF, JPEG, and PNG.
Operating system
LibreCAD works on Windows, MAC OS, and Linux without any issues.
Pricing
Free
AutoCAD is by far the most widely known of all CAD programs. Due to its many useful features and downloadable toolsets, it finds usage in architecture, engineering, construction, and design to create accurate 2D and 3D models.
A toolset contains features specific to an industry with object libraries that significantly expedite common design tasks. For instance, an architectural toolset may contain features such as auto-generation of Bill of materials and objects such as doors and windows. Some specialised toolsets that may be added to AutoCAD are as follows.
Architecture toolset
Electrical toolset
Map 3D toolset
Mechanical toolset
MEP toolset
Plant 3D toolset
Raster toolset
It also has an easy learning curve. Yes, there are many things to learn but it's not difficult. For this reason, many engineering institutions adopt it into their curriculum. More often than not, AutoCAD is the first-ever CAD software that students start their CAD journey with.
AutoCAD is quite famous for its 2D drafting capabilities but it can also carry out 3D parametric modelling. However, the 3D modelling in it requires the use of 3D commands. These commands are lengthy and challenging for beginners and can be a source of confusion. For this reason, AutoCAD is not the preferred choice for 3D modelling in the industry. Hence, AutoCAD is included in the 2D CAD software in this list.
Supported file formats
With AutoCAD, it is easy to import files from many other CAD programs such as CATIA, Rhino, SolidWorks, and IGES. Similarly, AutoCAD files can be exported to these programs just as easily. AutoCAD permits the import of many different file formats such as DXF, OBJ, STL, Revit, DWF Markup, and IDF.
Operating system
AutoCAD works with Windows (Windows 7 up to 10) as well as Mac OS. Besides, users can now access AutoCAD as a web app as well as a mobile app. The AutoCAD mobile app works on Android as well as iOS.
Pricing
AutoCAD provides a free trial of 30 days. This trial includes complete software features with all the abovementioned toolsets as well as web and mobile app support. Each trial must, however, be downloaded separately.
Students and teachers can get up to one year of full educational access to AutoCAD which can be renewed as long as one is eligible. The projects created through this educational version cannot be used for commercial purposes though.
After the 30-day trial period ends, AutoCAD is available at the following subscription rates:
Monthly: 220 USD
Annually: 1775 USD
3-yearly: 4795 USD (Highest value for money)
Conclusion
The many advantages of CAD software make it a must-have for everyone working on engineering projects. The best CAD software offers advanced features, a slick user interface, possibilities to easily modify any features, etc. But even experienced users probably make use of about 10% of all the possibilities.
So even though the listed best free CAD software options may seem inferior at first glance, they are still powerful and also provide many of the advanced tools of their high-priced counterparts.
If you're in fear of missing out on the additional features of the very best CAD software, make use of the free trials listed here.