Laser Cutting Online Quote
Laser Cutting Quote Online
Upload your CAD files for an instant laser cutting quote
Choose the material
Select the delivery address
Accept the quote
The system sends the parts to production
Delivery in 13 working days or less all over the US
Upload CAD Files
The first step is uploading your CAD files. Our system reads both 2D drawings in DXF format and 3D models in STP, SLDPRT, PAR and PSM formats. 3D CAD files also give you instant quotes for jobs that require bending, tube cutting and CNC machining.

If you do not have CAD files, we have some resources ready. First, here is an article bringing forth the best free CAD software.
And here is another article discussing the dos and don'ts of CAD design. Even if you have no previous CAD experience, following this guide will get you to an instant quote pretty soon.
Our system does not require detailed drawings. Making simple files without dimensioning is pretty easy actually, especially with the help of some of the many tutorials available on YouTube, for example.
Choosing the Parameters
When uploading a 3D model, the system reads the thickness from the file. You can now select the material and quantity from the menu.
Uploading a DXF drawing also allows selecting the thickness.
If you have any certain requirements regarding the parts, e.g. tolerances, just enclose a PDF drawing that specifies this info. You can also use the commentary box for simple instructions.
Material Selection

The drop-down menu displays our range of materials. We are constantly adding more metals to the list. In case you are looking for something that does not appear in the menu, please contact our sales engineers. We can most probably still help you.
The same applies to metal thickness. Our system displays common thicknesses up to a certain level. In case you are looking for a larger thickness that does not appear there, ask for it. We can then give you a manual laser cutting price.
Last, select the number of parts. Every change to the aforementioned parameters results in an automatically updated price. You can, therefore, compare different designs, materials, etc for cost.
Bulk Selection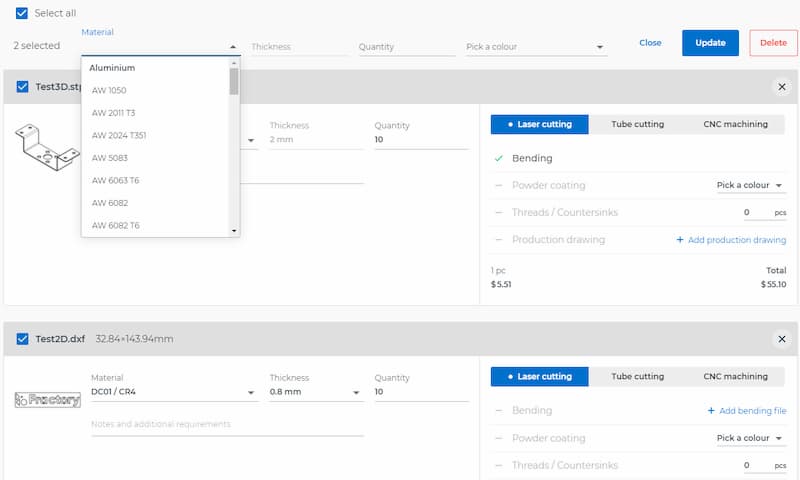 For an easy experience, we have included the option for bulk selection that comes handy when uploading a bunch of files. You can either select a few or all of them at once to change the material, thickness, etc for all of them.
Check Dimensions
Contemporary laser cutters can read all the necessary info from CAD files, so the drawings do not need any dimensions.
Therefore, we have included a general dimensions display just next to the file name. It is for you to double-check if everything is correct. This comes especially handy with drawings, as getting the scale wrong (needs to be 1:1) is a mistake we sometimes see.
Surface Coating Price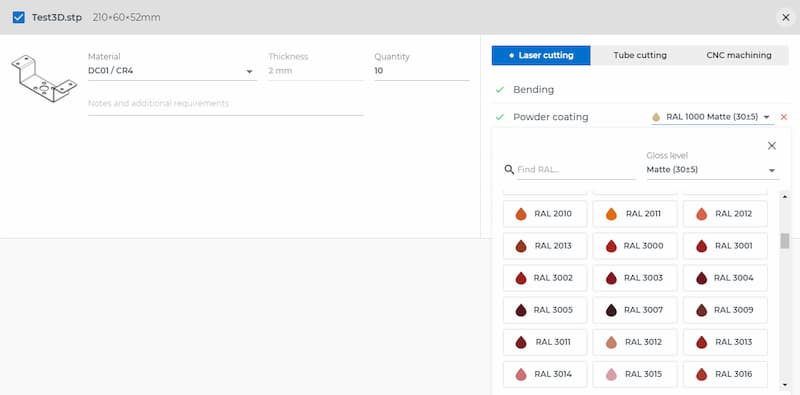 Our algorithms are not limited to laser cutting prices only. They also include bending, threading/countersinking and surface coating.
If you have any extra requirements, please note them down in the commentary box or enclose a PDF drawings with the necessary information.
Countersunk/threaded holes need pilot holes in the 3D file, an indication of the number of such holes in the ordering form and a PDF drawing with specifications. The latter means showing M8 holes, for example.
Accepting the Laser Cutting Quote
The last piece is filling in your delivery address, so we can calculate the shipping costs.
This information will be linked to your account, so you do not have to fill it in every time manually. Also, you can have a few separate addresses, should you have more than one warehouse, for example.

When filling in the delivery information, the "proceed to payment" button appears. Proceeding takes you to a screen with different payment options. These vary by country.
We are always looking to include more options there, all for your convenience. If you have suggestions for any additional methods, please let us know.
Manufacturing
After paying for the order, our algorithm selects the best-suited manufacturer from our list of pre-vetted partners. Having over 25 manufacturing partners on board helps us to keep the lead times low and provide a large variety of capabilities.
Each manufacturer has its own strengths and the algorithm keeps that in mind. So an aluminum cutting job will get forwarded to someone who is an expert in the field, as quality is of the utmost importance for us.
The platform also combines orders to make for a larger overall order quantity, which helps to lower the final price.
The availability of both CO2 and fiber lasers ensures the capability to cut any kind of metal, reflective or not.
Packaging
Fractory's packaging is standardized. This helps to make sure that your parts arrive neat and tidy, without any damage during the transportation.
Having proper documentation also helps to easily sort the parts on the shop floor.
Delivery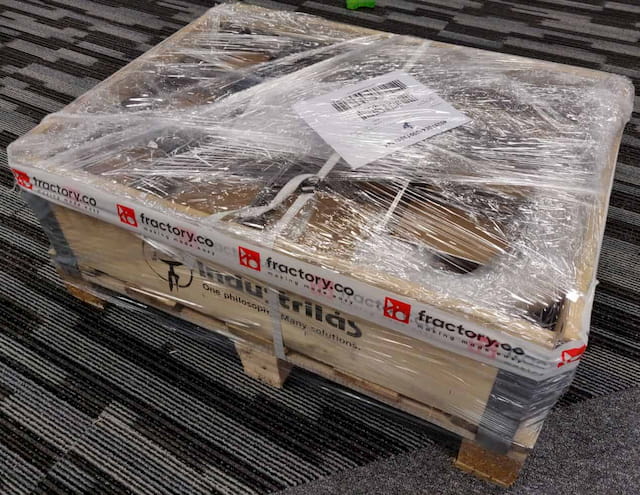 We deliver the parts all over the United States. You just select the address and we will take care of the rest. This leaves more time for you to focus on the engineering side.
The selection for carrier partners has been thorough. Thus, we can rest assured that the parts arrive in good condition.
Other Services
Aside from laser cutting services in the US, we also offer CNC machining services, etc.
Although some services like waterjet cutting and plasma cutting are not yet fully automated, we encourage you to please contact our sales engineers for a manual quote.