Laser Cutting Service
Laser cutting service by Fractory makes ordering your parts simple. You can just upload your CAD files – both 2D drawings and 3D models – onto the platform for an instant quote and lead time.
After confirming, we take care of the manufacturing, using state-of-the-art machinery which guarantees top quality. We also organize the transportation of your parts. This leaves time for the engineers to add even more value to your products by perfecting the design.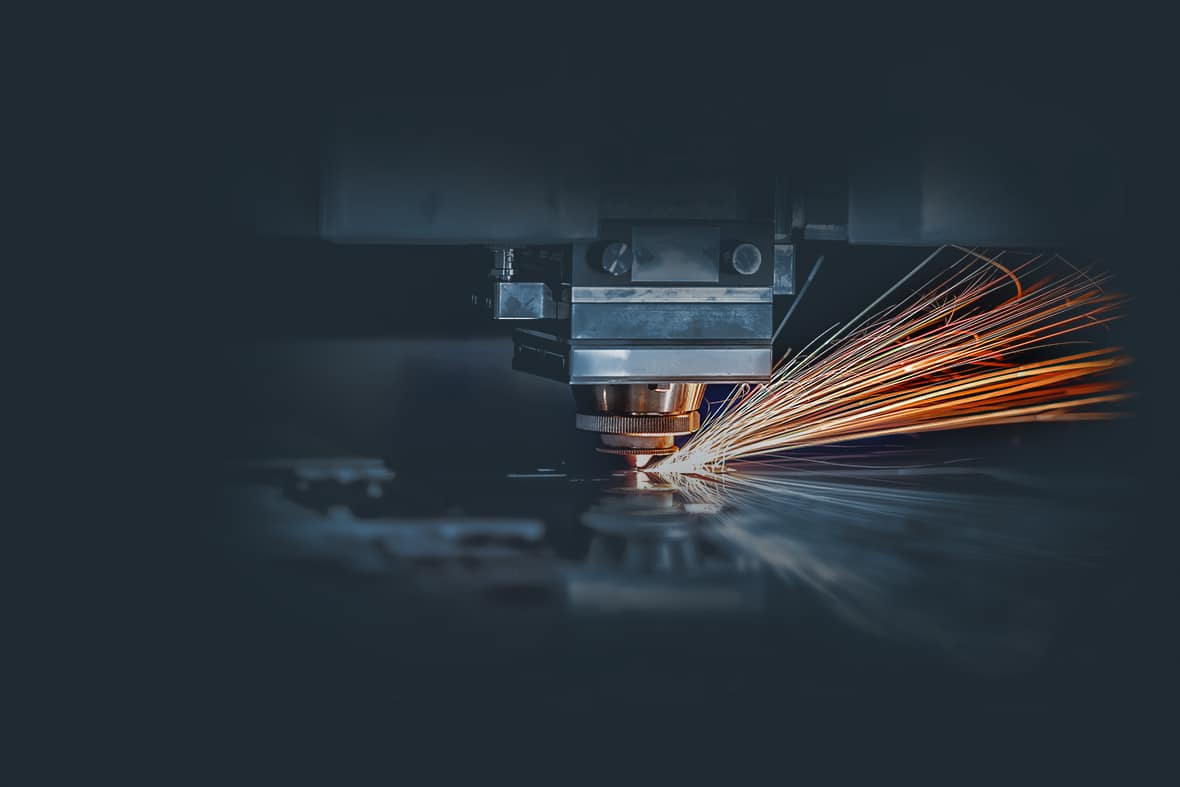 Using laser cutting services for metal cutting is the best way to guarantee a great end result. Lasers can quickly cut complex shapes with unparalleled accuracy and quickness.
Using CNC Laser Cutting Services
State-of-the-art laser cutters only need manual work for setting the parameters. All the cutting is done automatically. Combining the autonomous workflow with impressive speed allows you to keep the project costs low.
These CNC machines make tight tolerances possible. The positioning accuracy for laser cutting is +/-0.004 inches. Because of the high speed, the thermal effect on the material is low. This makes it possible to cut small holes with a diameter 1/2 of the material thickness. The cutting kerf for laser cutting is less than 0.02 inches.
The resulting parts have outstanding quality and need little post-processing.
Fractory's network of manufacturing partners includes a variety of service providers with capabilities for all sorts of projects and materials. These include regular mild steels, stainless steels, high-strength steels and non-ferrous metals. The latter group includes materials like aluminum, brass, bronze and titanium.
The upper limit for laser cutting thickness is around 1.2 inches. When looking to cut metals in larger thicknesses, please visit our plasma cutting service page for more info.
Our Capabilities

Cutting area
Up to 125 x 790 inches

Maximum material thickness
Stainless Steel
<1.2 inches
Copper alloys
<0.5 inches
Laser sources
Both CO2 and fibre lasers up to 10 kW
Repeatability
Ps: +/- 0.002 inches
Positioning accuracy
Pa: +/- 0.004 inches
Order Laser Cut Metal Parts
Upload your CAD files onto the platform. DXF drawings are suitable for laser cut flat parts. For parts with bends, please upload a 3D model in STP format.
Select your material and address for an instant price and lead time.
You can turn to a longer tutorial for getting a laser cutting quote. If you are looking for tube cutting, we also offer that with instant quoting. Upload your STP files to the platform for an instant quote.
If any questions persist, please use the chatbox or email us.
Shipping
Fractory's laser cutting service takes care of shipping as well. Just select your address and we deliver all over the US.
The lead times are less than 3 weeks for air freight and under 5 weeks for shipping.
Our Customers & Projects
Our portfolio of projects ranges widely. These include one-off custom laser cut parts for robot prototypes and series production for all kinds of machinery.
Our customer segments include the following:
Automotive – car panels, motorcycle components, roll cages for racing cars, etc.
Production lines – panels, structural parts, shafts, etc.
Maritime – aluminum boat frames
Forestry & agricultural machinery – panels, structural frames, shafts, etc.
Robots – custom panels, structural parts, moving components, etc.
As you can see, we can cater to the needs of a wide range of industries. However, we would advise you to check out our design requirements to make sure that we can produce your parts according to the design.
What Materials Can We Cut?
At this time, we only concentrate on metal cutting. See the list below for different metal cutting capabilities and the maximum recommended thickness for each material.
Mild steel – up to 1 inch
Stainless steel – up to 1.2 inches
Special steels (Hardox, Strenx, etc.) – up to 0.8 inches
Coated steel – up to 0.2 inches
Aluminum – up to 1.2 inches
Copper alloys – up to 0.5 inches
Production by laser cutting is actually suitable for a wide range of non-metal materials as well. These include MDF, acrylic, wood, card, paper, etc. Unfortunately, we are not currently offering cutting services for the aforementioned materials.
Online Laser Cutting

You can see a 3D STP model uploaded to the platform above. The algorithms detect cutting and bending operations and price the job accordingly.
As you see, there is no need for a manufacturing drawing when using a STP file. The platform generates flat pattern drawings on its own.
The quoting system is free to use. Engineers can now make knowledgeable decisions on design and choice of materials, keeping costs in mind.
When placing an order, our algorithms choose the best-suited manufacturing partner for the job. The choice depends on several factors, including availability (lead time), location, the material you select, etc.
Still, Fractory is the only point of contact through the whole process from quoting to delivery. You are not asked to consult with our manufacturing partners yourself.
Online laser cutting helps you to:
Reduce lead times
Assess costs
Find a manufacturer with competitive prices
Find a manufacturer with the right capabilities for your job
Advantages of Laser Cutting
As we have pointed out, laser technology has a few advantages over other cutting methods regarding certain qualities. To put them to work in your favor, it is good to be aware of them.
So, here is a list of the main advantages of laser cutting:
Flexibility – One sheet with 100s of different complex cuts is an easy job for a laser cutter. Custom laser cutting is available for a variety of materials. The technology can also engrave the parts as necessary.
Accuracy – The aforementioned precision for cutting and positioning answers to high demands. 
Repeatability – +/- 0.002 inches ensures that a series of parts are nearly identical.
Fast – The advantage is speed becomes especially evident with thin sheet metal. The ability to speed up the manufacturing process results in lower costs.
Cheaper – Laser cutters are pretty efficient in their use of energy. Also, many workstations are fitted with shuttle tables that reduce the need for handling. Less manpower means cheaper prices per piece.
Simple cutting files – CNC laser cutting machines can read drawings and 3D models without any other input from the machine operator. The necessary data is all readily available without any extra dimensions on drawings.
Small heat affected zone – The HAZ is a side-effect of all thermal cutting methods. As the laser moves quickly, it does not heat up the metal as much as the other technologies, though. Thus, the heat-affected zone is also comparably small.
Contact
If you want more information about the possibilities on offer, don't hesitate to contact us via email. One of our sales engineers will get back to you at the first opportunity.
Laser Cutting FAQ
What standards do you follow?
We follow ISO 9001, ISO 9013, and EN 10204 standards.
What are the lead times?
The lead times for US-wide shipping of laser cut parts are 3 weeks. Get your quote today with information regarding the lead time of your cut design.
What industries do you specialize in?
We are not focusing on a certain sector. All metal-related projects are welcome, from industrial machinery to custom design projects.
Can you help with service for CAD design?
Our engineering department can recommend the best software for creating your designs and share relevant know-how to improve your project. However, we do not offer a service for design.
Do you also offer laser engraving services?
Yes, we sure can make laser engraved parts. The automated quoting system is not available for that, though. So please turn to our sales engineers for a manual quote at info@fractory.com.
Do you cut anything besides metal?
Unfortunately not. We will definitely add more materials, including wood, acrylic, MDF, etc, to the platform in the future. Until then, we are keeping the focus on metals only.
Is there a minimum order size?
No, you can upload even a single part using the platform to see the cost. Getting a quote is free and fast. You can see the dynamic pricing when changing the specifics of your order.