A few days ago, I received the most heart-warming letter from one of our customers. It's just great to see someone so young being that passionate about engineering.
Hopefully, you'll enjoy it as much as the Fractory team did.
Here's the letter, unedited.
My name is George Ferguson, I am a 17-year-old fabricator and blacksmith in my spare time. Like most people of my age, I have a pocket money budget to spend on equipment and a need to constantly improve the quality of the things I make. This need requires a certain amount of ingenuity to save sufficient funds by selling things I have made, topped up by money from birthdays and Christmas.
The welding table below is a case in point. I looked briefly at buying a commercially made welding table of similar size and specification at auction. They sold for between £2000 and £2,500 before transportation costs. This was clearly way beyond my budget, which I had saved over the last 12 months.
I tried pleading with my parents for further funds but they had just recovered from hiring a trailer and transporting my recently purchased 2.5-ton milling machine from an auction house in High Wycombe all the way to Devon at 30mph. Consequently, they were not in a sympathetic mood! The only option was to make it myself.
Doing the Design
I had looked at a lot of welding tables and decided to combine features I liked from several tables into my design which I did in CAD using Fusion 360.
The welding table is 2m long and 1m wide. The dimensions were driven by what I thought would be my future requirements and the size of my workshop.
At the moment I mostly make household items such as bar stools and umbrella stands which I sell on the craft website Etsy (you can see his work here) to raise funds to buy more equipment and supplies. If I was just planning on making these, this table may be overkill. This is especially true when you consider that many commercially made welding table tops are made out of 6mm steel.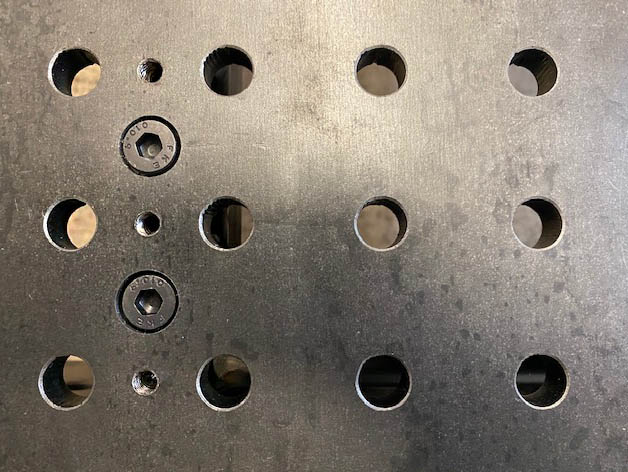 I elected to use 16mm steel for mine as this would make the table more durable, heavier and once levelled, more likely to remain flat. Each of the steel plates are 100×16 cm. There are eleven in total, 10 on the top and one on the side of the table. The table frame has been designed specifically for rigidity and strength and is made out of 60x40x4mm tube steel.
The steel plates were laser cut by Fractory. It is important to know when aspects of the project are beyond your skills and equipment capability! Fractory were very generous in their dealings with me. Not only did they produce each plate exactly to my specification but they also gave me a generous discount when it became apparent that my funds were limited.
The larger holes in each plate are 16mm in diameter and 50mm apart to take most commercially made hold-downs and other jigs. I used M12 socket head cap screws to hold the plates to the table, I used eight bolts per plate. I counterbored these holes and threaded corresponding holes in the table frame top sections so that the bolts would be below the surface of the table.
In addition, each plate has 12 M8 diameter levelling grub screws so that each plate can be adjusted independently to ensure that the table surface can be made as flat as possible. After a bit of toing and froing my table is now flat to within 0.2mm per metre which is close enough for my needs. See below.
The Cost and Time Taken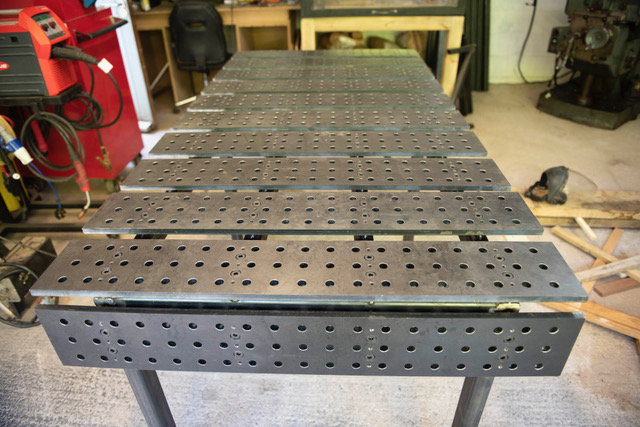 The total cost of this project was £900.00 and it has taken me 3 weeks using spare time between work to projects to build.
I estimate that if you were able to buy this table commercially it would cost around £2,500 before VAT and shipping costs so I am delighted with the outcome. Naturally, a commercially made table should be dead flat out of the box whilst mine needed some work to achieve the same result.
Let me stress that the success of this project was largely due to the quality of the plates made by Fractory and their generosity in giving me a significant discount on the price. I would strongly recommend buying from them if you are taking on a similar project and I will certainly be using them again in the future.