Another year has passed, making room for 2022. As usual, this means it's time for us to reflect on the past year and bring out some of the things we want to accomplish over the next one.
What Did We Achieve in 2021?
We had quite a few plans for 2021. So, let's start by looking at how we managed to fulfil the goals set for 2021 and then move on to 2022.
The Platform

First, the most anticipated update – automation of CNC turning and milling. We added this functionality at the latter end of 2021. You can upload your STPs to get a price for machined parts in seconds.
The user interface got a complete makeover. Allan, Fractory's designer, made the platform easier to navigate, so you can find all the necessary buttons and dropdown menus without much effort.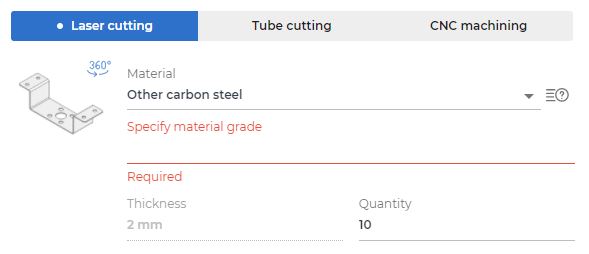 Ordering "other materials" is enabled right on the platform. For example, if we haven't listed the carbon steel you are looking for, just click on "other carbon steel" and input your specific grade to the form. We will most likely still be able to deliver.
We also implemented manufacturability feedback. You can get more information on why we cannot price the part and make the necessary design changes accordingly. For example, if the bend radius is too small for the part thickness, you will know it.
You can now view each part in 3D right on the platform by clicking on its image. This comes in especially handy should there be any manufacturability warnings as the features that need attention are highlighted.
The platform is now also able to detect countersinking. Countersunk holes are widely used and not recognising them meant the need for a manual quote. Not any more.

Company accounts have been live for a few months. These allow you to consolidate users from the same company under one account to enable:
Use of common payment terms
Tracking of team projects' progress
Creation of new shipping addresses
Inviting team members and managing their roles
Mass edits got a remake, so you can choose parts in bulk by different parameters like thickness, manufacturing method, material, etc. to make changes at once to a common set of parts.
Bulk uploads for manufacturing drawings are now possible. Some of the manufacturing methods still need an accompanying drawing and you can upload them all at once. The connection between the part and drawing will be made automatically if the naming of the files is the same, e.g. part1.stp and part1.pdf.
New Offices
In 2021, we opened our first office in Finland.
And another one in Estonia, this time in Tallinn.
Much of the work went towards preparation to open more markets and offices in 2022. More about that later.
Team Expansion
By the end of 2020, we had 28 team members in total. We managed to more than double the number over the course of 2021, especially after our Series A round. We now stand at 63.
A lot of focus was on manning our supply chain team to ensure a smooth service. But every team got new members – from IT and sales to marketing and HR.
By the way, we are still looking to fill many more positions. If that piques your interest, check them out here.
Revenue
Our revenue grew 3X compared to 2020. The key to growth was making sure that our quality of service kept on improving.
A testament to our success in this matter is that we had 2.5X more recurring customers vs 2020. Simply put – you were happy to come back. And we were just as happy to work with you, so a big thank you from the whole team!
Number of Parts
For the first time, we hit the benchmark of 1M parts made in a year. Of course, the aforementioned recurring customers contributed hugely.
But a large portion of our production volume came from series manufacturing. You utilised our network of manufacturing partners to make sure that your recurring orders would always be delivered on time at set prices amidst the uncertainty in the market.
You come from all kinds of industries. Hence, we produced parts for a wide range of projects from boats to cruise ships, hen coops to skyscrapers and autonomous robots to drones.
Prizes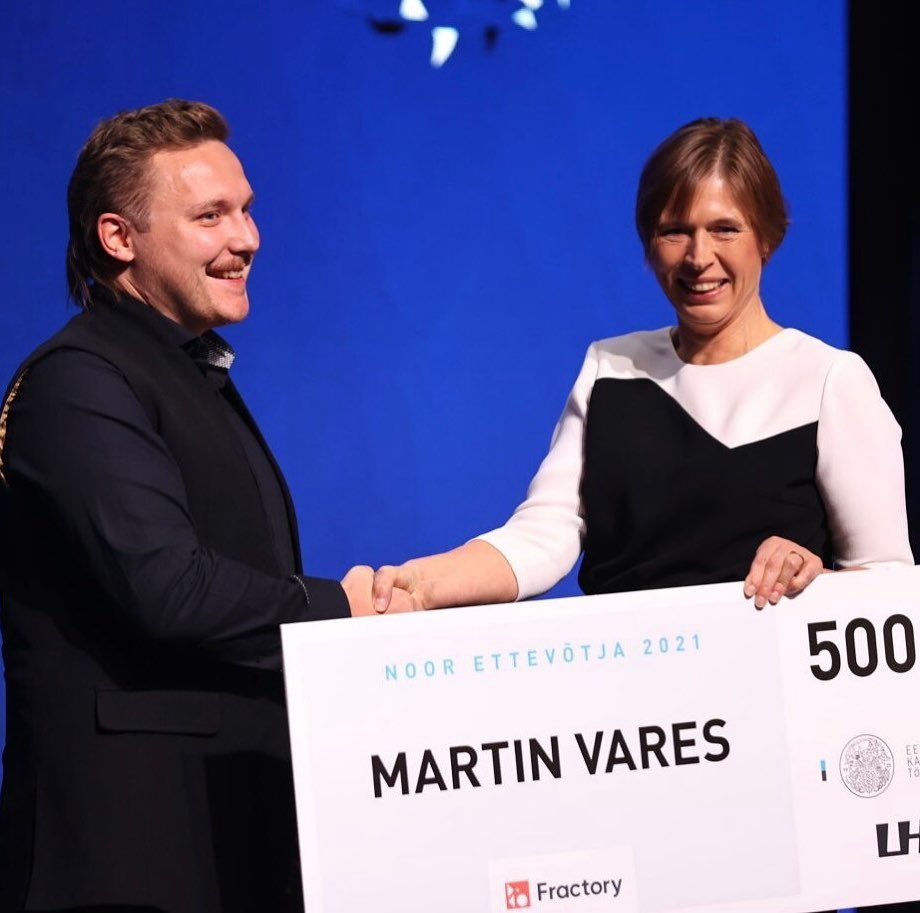 Sifted listed Fractory's funding round as one of the Top Sustainability Deals in Europe in 2021. We are definitely striving to make the whole industry more sustainable through smarter use of resources (both physical and human), so we are honoured to get noticed for our efforts.
Fractory made the final selection for the Entrepreneurial Success Award by the Greater Manchester Chamber of Commerce.
Martin Vares, the CEO of Fractory, was recognised with the Young Entrepreneur of the Year Award in Estonia. You can read more about the journey from engineer to entrepreneur from here.
Martin was also one of the finalists for the Young Manufacturer of the Year Award at the Manufacturer MX Awards.
What Is Going to Happen in 2022?
After looking into what we managed to accomplish over the course of 2021, it's time to move on to the present and the future. And there are plenty of reasons to do so.
New Functions on the Platform
The platform will be able to read CAD files native to Solidworks and SolidEdge. This will be enabled over the coming weeks.
Expedited orders will be available as a choice right on the platform. So if you are in a hurry, you will not have to contact us but rather just simply choose this option.
CNC machining pricing will be more flexible. Our developers are continuously working to improve our existing services and CNC machining is definitely one of them. So the platform will be able to read and quote more complex parts.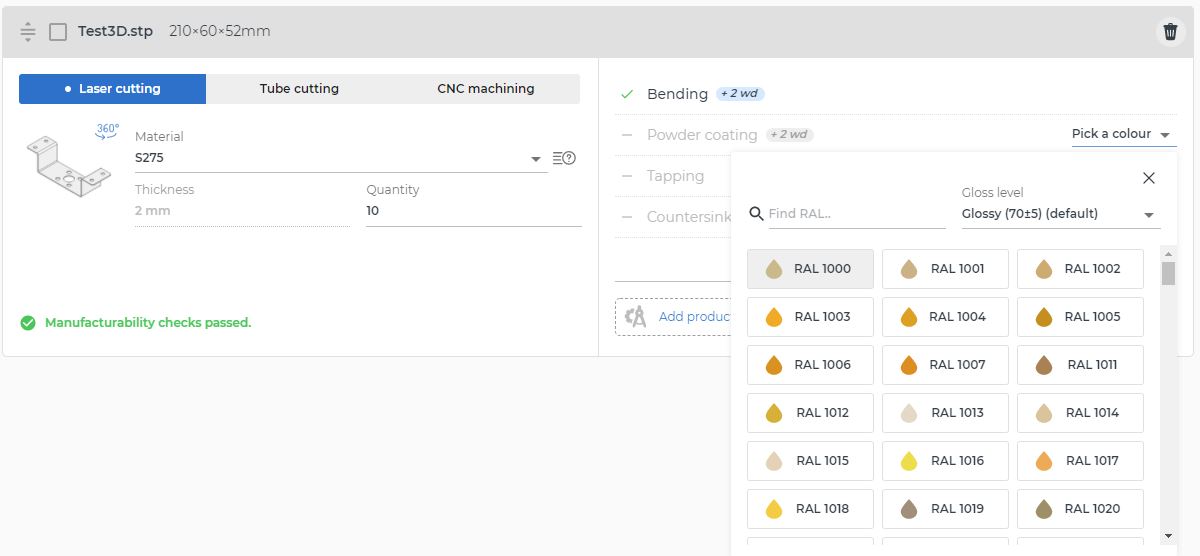 Automatic pricing for post-processing will include more methods, e.g. deburring, anodising, etc.
Fractory will offer 3D printing as a service. The importance of this manufacturing method is gaining more ground in the industrial sector and we are catering to just that.
New features for company accounts are in the works. Applying for payment terms, having a parts library and more options will be added.
A Fractory CAD plugin (or plugins) will be available to see the price in real-time in your favourite software. This will provide valuable feedback on design decisions.
New Markets
The first big milestone in new markets is going to be already in February as we are opening the doors to our US office.
By the end of 2022, Fractory will also be present in France and Italy.
The Team
We are looking to add another 40 people to our ranks over the course of 2022. This includes sales engineers, team leads, developers, finance specialists and other key personnel in all the countries we are and will be present in.
Revenue
A lot of great specialists have joined us with the same goal of making Fractory the cloud manufacturing platform. With these additions in mind, it is only logical to aim high – for another 3X in revenue growth.
Let's work together for a successful 2022!