Serial production is one of the most common types of mass production, whereby similar or identical parts are produced in batches. After the batch is done, the next one may be put to work at a later time, inversely to continuous production, where the production line is always in motion to serve a single purpose.
You, the customers, come to us with a variety of requests. While prototyping and one-off spare parts are very common, many of you are taking advantage of the business model to order batches of 10,000 tubes, for example. Thus, we decided to take a deeper dive into the aspects to keep in mind when looking for someone to help with fulfilling large orders.
Serial production poses high requirements for the manufacturing partner. The main demands revolve around:
Security of supply

Lead times

Competitive pricing

Manufacturing capabilities

Finding solutions to technical problems

Data privacy
We will analyse each point based on our customer feedback and how they value them. Also, we add the ways how we can help with securing each aspect.
Security of Supply
How many setbacks do you encounter with your current suppliers? And how often does the contractor back away from the initial agreement?
Security of supply is the central factor for large orders because the company's plans revolve around promises by the supplier. Breaching the agreement results with halted operations and the whole chain suffers from a failure in a single link.
Fractory's network of partners includes over 30 regional manufacturers which enables us to offer a flexible project management service. This helps to redirect the work to other partners, should any problems arise (e.g. laser cutting equipment is down for maintenance).
Supply chain problems were especially evident during the first wave of Covid-19. We saw that actually only a few manufacturers closed their production entirely. Still, partial closure and the application of shifts cut the output power of some companies which brought along delays in the supply chain.
We helped many new and existing customers overcome that period by putting their projects to work right on time, using the manufacturing network to its full extent.
Lead Times
The overall lead times for large projects tend to be quite long. It may seem logical to deduce that a few days variation in production lead times do not really matter.
In reality, the last phase entailing production and assembly is often hurried because of earlier setbacks.
Having only a few established partners means that your lead times depend solely on the amount of work they currently have on their table. We are always monitoring the situation of our partners and sending out the work accordingly, optimising lead times and manufacturing costs based on the customers' requirements.
Competitive Pricing
While lead times are mostly the number one factor when looking to order one-offs in the form of, for example,  spare parts, price is something that cannot be overlooked with large orders.
To find someone with a fair price-point, you will have to get quotes from several suppliers and really tap into the market to get a good feel about the situation.
Fractory has the information regarding our partners' pricing in the system. It includes the cost according to material and thickness as well as different processes. Data-based decision-making can significantly impact the overall cost of the project.
Manufacturing Capabilities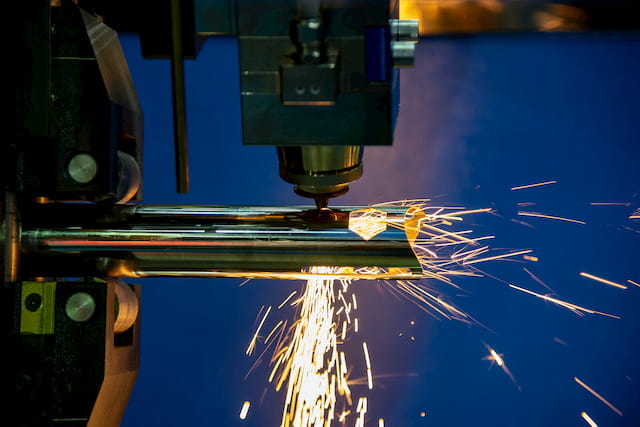 The task is pretty straightforward when looking to manufacture a batch of identical parts. Just get a quote from 3 or 4 suppliers and go with the best one, provided you trust their quality.
Building a large industrial machine may, however, require laser and plasma cutting, tube cutting, metal bending, welding and CNC machining. This means that you have to make a trade-off in either the price or overall time put into administrative duties.
The first option entails finding a supplier with all the necessary capabilities, which already limits the possible manufacturers. Having found them, you have to concede that most probably they can only offer competitive pricing for a few of the operations and materials, bringing the total cost of the project upwards.
The second possibility means dividing the project between suppliers. CNC machining, sheet cutting and bending and tube cutting may all go to different partners. This, in turn, raises the amount of administrative work by calling, sending emails and keeping track of the order progress in later phases.
Our engineers have already mapped out the market capabilities. We use this info to send the jobs to partners who can guarantee the necessary quality with a reasonable price.
For the admin side, you will only be left with a single point of contact – us.
The information about the order progress is visible on the platform and any questions will be handled by the account manager, eliminating the need for juggling between service providers. We also take full responsibility for handling the transportation, using our automated systems to cut the manual work.
Get your manufacturing quote in seconds
Quote in seconds

Short lead times

Delivery by Fractory
Get quote
Finding Technical Solutions
We are convinced that a manufacturing partner should use the industry know-how to aid clients with help and consultation. Our experienced engineers have worked on a variety of projects over the years, ranging from military and agricultural equipment to furniture and automotive manufacturing.
We are happy to share our insights to help with technical questions, creating a cost-effective design (from the perspective of manufacturing), choosing the right materials, etc.
Data Privacy
Intellectual property is something we take very seriously. Our customers have shared stories about drawings that have ended up in the hands of the competition.
Which is why we use encryption when sending out the drawings, stripping them from all the sensitive information.
Also, we do not make the drawings available to see for all the partners, waiting for the best price. As said before, we know the price-points and send the manufacturing files out based on that information.
A Platform for One-Off Orders or a Partner for Serial Manufacturing?
We have built Fractory with a vision to save engineers' time and resources. Small orders (up to £5,000) are fully automated, diminishing the time requirements for submitting an order down to minutes.
Large orders still need a helping hand from our engineers. Still, the processes are partially automated and we have the experience with handling and managing these types of projects. This makes us a great partner for executing such jobs without friction.
If you are interested to see the ways we can help you with large orders, contact our sales engineers to find a suitable solution for your needs.
Currently, we are offering the following services: