CAD is an acronym for Computer-Aided Design. It refers to the method of using computer software to create virtual models of proposed products. There is a variety of CAD software available, each with special features that sometimes make the suitable for a particular application.
Capabilities of CAD
The design of a product must be ready down to the last detail before putting it into production. This ensures that no setbacks through necessary changes to the product can occur afterwards.
Traditionally, doing this required manual drawing and designing using paper and pencil. Today, using CAD systems significantly reduces the amount of work. Creating 3D models and 2D drawings is faster and easier than ever before.
Although the projects can vary greatly, many of them still use a plethora of standard parts. For example, bolts, nuts, washers and other fasteners belong to the list of components when creating any kind of machinery.
In such cases, engineers can turn to part libraries to just pick the most suitable size for the application and use it in the assembly. This reduces time spent on creating small parts while making sure that less easy mistakes happen due to not displaying them in the model at all.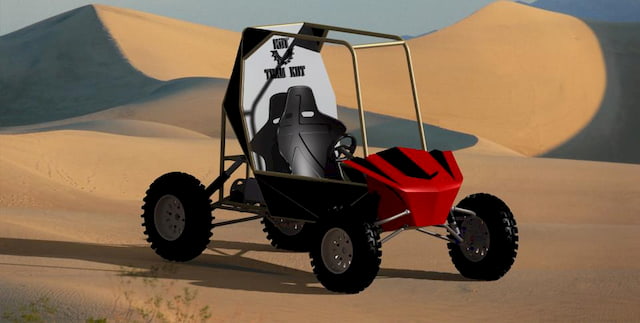 The parts and assemblies can be created, analysed, improved and shared with others in CAD. You can apply colours, look at different angles and create rendered images for a life-like experience. This is especially common for displaying visuals for future products.
You can separate a large assembly into parts or display a predefined layer at a time. Many CAD programs have the essential tools of finite element analysis software. This helps to test the parts for force-bearing capabilities and dynamic loads.
Thus, a CAD system is much more than a replacement for manual drawings. It brings about a whole new level of possibilities that engineers can utilise for creating better products faster with fewer mistakes.
These values also align well with lean manufacturing methods and their principles of minimising waste and maximising productivity.
Advantages of CAD
CAD has a variety of advantages over manual drawings that have made it absolutely essential in the design market today. Let's take a look at how they help the contemporary engineer or product designer.
Saves Time
The ongoing era of product development entails a lot of competition. The time it takes to bring a product to market can be essential to its success. 
With CAD software, time is our lucrative reward. It saves the engineer a lot of work that can be put to good use on different projects or perfecting the design of the ongoing one. You can easily visualise the ideas you gathered during the product design concept generation phase.
Creating simple shapes and parts takes seconds. The biggest win, though, comes with more complex parts. For example, you can create a flat pattern of an intricate bent sheet metal part with a click of a mouse. No need to contemplate how to present it correctly.
At the same time, making changes is really easy. Or creating new models based on previous ones. You can just re-use a 3D model and add the necessary features to create a similar but unique part in a lot less time.
Increases Productivity
Time saved translates directly into augmented productivity. The same amount of time can result in a higher number of completed projects.
The repeatability of design is an option. Modifying the same design is possible to make infinite variations of the final product.
On average, a 3x increase in employee productivity is noticed. With time, this productivity can approach 10x. A large part of it comes down to the ability to create simulations in CAD rather than doing manual calculations.
This improvement is seen on multiple fronts like quality, time, and cost reduction in manufacturing.
Improves Accuracy
Manual sketching cannot measure up to the accuracy of CAD drawings. CAD design's accuracy is unparalleled with almost no errors.  This gives it a huge advantage over manual designing and drafting.
Of course, the designer must still pay attention to the outcome. The "retrieve dimensions" function does not replace an engineer, as it does not recognise the base planes for measurements, for example. And this can be crucial with parts like shafts.
Complex surfaces and shapes can be created comparatively easily in CAD. These surfaces are extremely difficult to get right with manual sketching but with CAD systems' tools, a perfect result can be obtained.
Get your metal fabrication quote in seconds
Quote in seconds

Short lead times

Delivery by Fractory
Get quote
Decreases Errors
Features such as interference checking (which also belongs to our list of engineering tips) for 3D models offer advantages unique to CAD systems. This feature helps the designer check for interferences between one or more parts. 
The result? A lot less errors in the final product.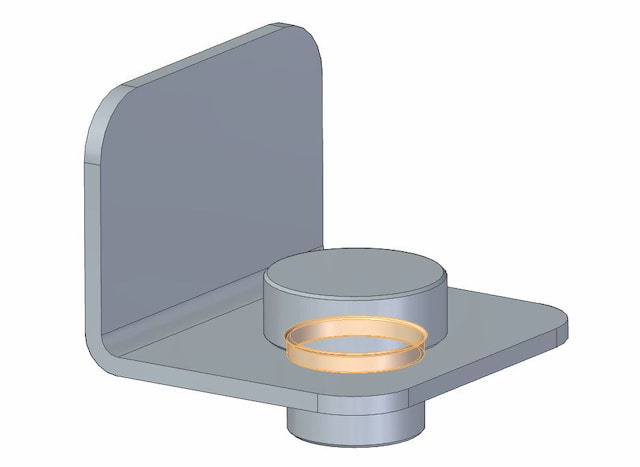 It is easy to change the size of a pin, go for a coffee, and later forget to reduce the size of the hole accordingly. We can now make sure that the pin will at least fit into the whole by using this function of the CAD system.
Depending on the CAD program, these changes could be automatic as well. Change the size of the pin and the hole size changes accordingly, the correct dimensions can even be reflected in the 2D drawings.
Better Quality
It goes without saying that design software can generate aesthetically pleasing drawings besides having added functionality. It also provides the user with a vast number of tools to create the drawing just as imagined.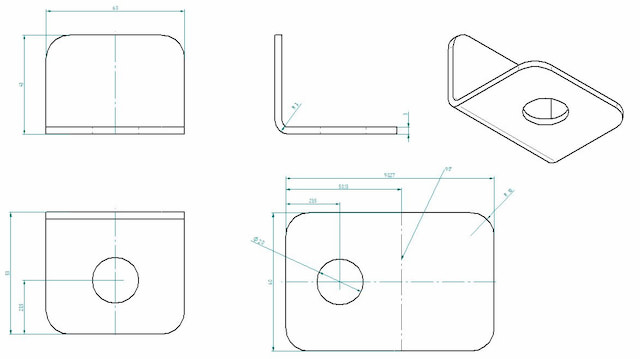 Even the trickiest of products can be created with the right knowledge of available tools and the required mathematical equations. This versatility permits the designer to think outside the box and come up with innovative solutions without the fear of not being able to put the idea on paper.
Higher legibility and fewer errors in drawings also result in better quality and more accurate final products.
Ease of Understanding
The availability of 3D models to accompany drawings can make even the most difficult drawings easy to comprehend. This cannot be done in physical sketches as a minimum of three sketches (plan, elevation, and side view) would be required to get a general idea. Other views such as isometric or section views may also come into the picture.
While CAD is perfectly capable of displaying the above views of a product, nothing beats being able to play around with the product in the virtual space to understand its exact configurations. Many workshops today use this possibility by giving machine operators and assemblers tablet computers to make the work easier. 
CAD models also make it easier for designers to showcase their products to fellow designers as well as laymen who have no foundation in engineering. These impressive digital representations of the product can be used for marketing and sales without the need for an actual prototype when using the concurrent engineering process, whereby departments at the latter end of the whole product development process start working simultaneously while work is still being done at the first steps.
Quick Sharing for Collaboration
CAD drawings, being digital files, are easy to share among team members who are working on the same product. No bulky drawings need to be transported. Sharing is instantaneous. Thus, even remote employees can stay in the loop about new developments regarding the project without any issues.
With high-speed internet becoming an ordinary facility, CAD programs are now being used on the cloud. Thus, the sketch remains accessible at all times to specified team members for easy review and modification. This is a great advantage for companies that have multiple field offices spread across the globe.
CAD-generated models also have standardised formats. This provides uniformity in design tools and symbols and allows different users to work on the same project without any hurdles.
Computer-Aided Manufacturing (CAM)
Creating CAD or CAE (Computer-Aided Engineering) models also helps to put parts into production much faster. CAD-CAM software makes it easy to check the tool paths for CNC machining and feed the files to the machines. Calculating CNC machining prices take cycle times into account and using CAM systems makes it much easier and faster.
Such software creates the necessary machine code for production just based on the model. The biggest advantage is evident for CNC machining services where the whole otherwise difficult process can be largely automated, including the change of tools. 
Integration with ERP
Being able to use CAD/CAM also allows engineers to incorporate the files into an ERP system. ERP is an acronym for Enterprise Resource Planning.
In manufacturing, ERP is used to enhance the efficiency of any process. ERP software helps integrate and regulate different facets of a project so that less time is required to go from raw materials to finished products.
Benefits of Automation
The solution to minimising project lead time is to automate all recurring processes in the design stage. CAD usage cuts down a lot of grunt work that is a part of manual sketching, without affecting the quality.
For instance, companies offering custom products have the increased pressure of creating proposal documents and drawings as fast as possible. Best guess costings are expected for orders that are not guaranteed. Engineering departments' resources are wasted on tasks that can be automated. On incorporating automation, more time is available to innovate and add value to the product.
One such way is to get automated production quotes from cloud manufacturing service providers. This significantly reduces the time spent on procurement processes and gives a price instantly based on CAD models. This way engineers can, in turn, quote their own clients. Such speed can often win a job.
Through CAD software, different parts of the same product can be created separately and combined in the final stage. These individual parts are saved and are available for reuse later. It can also automatically generate detailed drawings and bills of materials for the manufacturer.
These features increase throughput, reduce errors, and improve quality allowing you to take on more business at any given moment.
Choosing CAD Software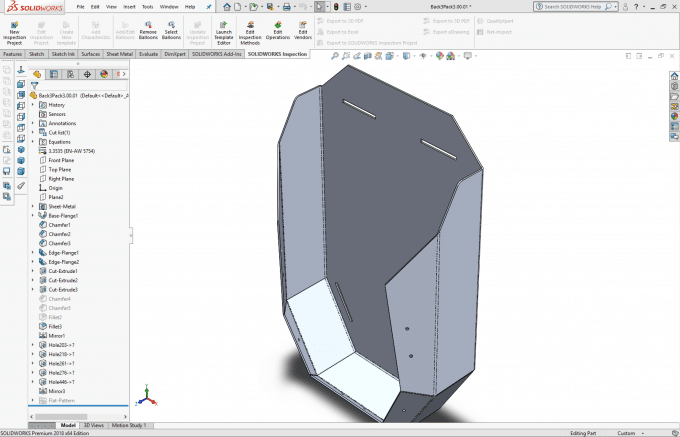 There are many types of CAD programs out there. The most popular one is probably SolidWorks, with Inventor and Solid Edge following closely behind.
The price per seat can be quite costly, though. All the aforementioned programs have a lot of history, meaning countless hours dedicated to product development. And this reflects on the price. At the same time, they do provide a lot of different tools for a professional engineer to help them on all sides of a project.
When you are just coming into the space and looking to dip your feet into the water, we would suggest looking into free CAD software. These programs are less flexible but the functionality is more than enough to start learning.
Conclusion
Sketching still has a place in the design and manufacturing industry. Many designers start with a rough manual draft of the product before moving on to CAD. But when it comes to modern product modelling, sketching just doesn't cut it anymore.
Computer-Aided Design has ushered in an era of professional design that is so lithe, quick, and wholesome that it cannot be overlooked anymore. To avoid using CAD software in this time and age is akin to swimming against the tide and therefore, a profit-seeking venture can't afford to lose out on the benefits of CAD.