The cost of laser cutting machines varies greatly. A new laser cutter can cost anything between £200 and upwards of £1,000,000.
Evidently, the cost varies much. Therefore, it is important to find a suitable balance between your requirements and cost.
What Do You Need It For?
Firstly, to determine a suitable laser cutting machine, we need to identify your needs.
Lower end of the charging spectrum is suitable for DIY hobbyists looking a laser cutting and laser engraving or marking option for non-metals or soft metals. Although the range of materials may be quite wide, these machines are not suitable for cutting metals.
If looking for a laser cutter suitable for industrial scale metal cutting, we are looking at the higher end of the aforementioned range. But there is a ton a variation there as well.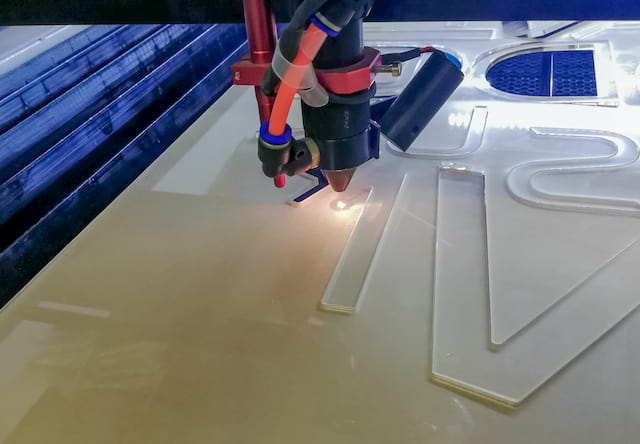 So basically the most important question is – what materials can the laser cutter cut?
Another important aspect is the size of the material that needs to be cut. Laser cutters come in different sizes. Anything from regular printer sizes up to 3000 x 12000 mm tables are available. Again, smaller means cheaper.
What Is the Price of Different Machines?
If you are looking for a machine to produce parts for your DIY RC planes, for example, the requirements are not that high. Just make sure the machine is able to cut the materials you use in the size you need.
Another thing to keep in mind is the cutting volume. A golden rule here is that doubling a laser's power doubles its cutting speed. Power is also the parameter that determines suitable cutting thicknesses. High quality cuts are only achievable with a powerful enough machine.
The prices for such hobbyist machinery start from £200 and go up to about £10,000. This is a great site to get recommendations according to your budget.
We would not advise to make the choice based on the cost only, as the cost also tends to reflect in the reliability. At the same time, going for the highest possible grade would probably need sufficient usage of the machine to justify the costs.
In order to make the final decision, we would recommend consulting with the seller.
Get your laser cutting quote in seconds
Quote in seconds

Short lead times

Delivery by Fractory
Get quote
Industrial Laser Cutters
When looking for industrial laser cutters able to cut metals, the sums start from around £200,000. More powerful machines with larger work-benches and some extras can cost upwards of £1,000,000.
While you can definitely take a closer look at the specifications of different machinery and compare them, the easiest way is still contacting a supplier directly. As this is a niche market where every sale counts, they are very open to discussing your needs in order to find the optimal solution for you.
The main points revolve around a few things:
What materials do you want to cut?
What are the volumes?
What sizes do you need?
Extras
The materials are a deciding factor when choosing between different types of lasers. CO2 laser cutting machines are perfectly good for most jobs. But when you need to cut reflective materials like stainless steel or aluminium, fibre lasers are the preferred option, as these two have different working principles.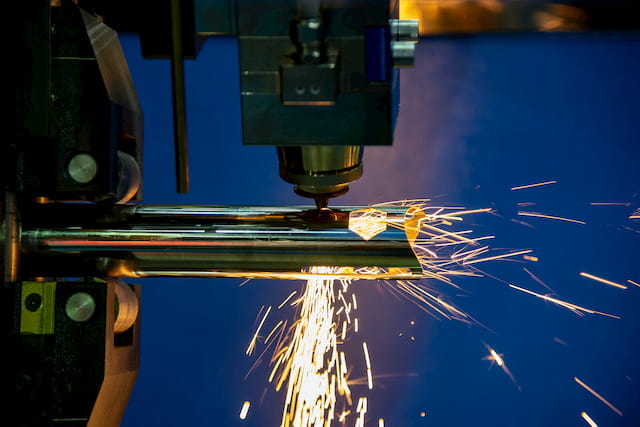 Another thing to keep in mind is the ability for tube laser cutting. Of course, there are special tube laser cutting machines but some multi-functional cutters also have the capabilities to perform both flat and profile cutting jobs.
A lot of manufacturers offer a wide range of possibilities to automate your production flow to a large extent. This includes feeding systems as well as conveyors that take your parts to the next station.
Buying a New vs Used Machine
So, new machines are definitely expensive. Your choice reflects on laser cutting price. So would a used one be a good alternative?
This is again a question that does not have a right or wrong answer. It is definitely possible to find a good bargain on the market, especially when it comes to simpler machines used for DIY projects. Hobbyists are just prone to buying stuff only to sell it later, unused, with a discount.
Even a small markdown, percentage-wise, can add up to a significant amount when it comes to industrial laser cutting machines. You can see some prices of used laser cutters here.
Is it worth the risk? Depends. A used machine can quickly "make up" for the saved money in lost revenues through down-time and the cost of maintenance. Moreover, letting down clients who are in a hurry may result in losing them for good.
Brand new machines don't need that kind of attention at the start and also come with a guarantee. New machinery also means new technology, resulting in quicker turnaround times and more profit.
So it may be wise to consider what do you need the laser for – is it for fulfilling your own needs sparingly or does your business depend on it?
Also, when you buy a Bystronic, Amada, Trumpf or whichever other great brand's product you can rely on their support. This includes training to use the software and properly set up the machine.
Alternatives
Nowadays, more and more makerlabs are coming to the market. Buying a cheap laser engraver or laser cutter for DIY purposes may be fun but those places probably have much better equipment you can justify buying. If there's something like that nearby, it is an excellent way of getting your parts manufactured.
In business circumstances, buying machinery boils down to expected incomes and expenses. The running costs include paying a skilled machine operator, cutting gases, power, etc. Monitoring the machine's OEE (overall equipment efficiency) is what gives you the answer. But estimations should be done before buying the equipment.
If the calculations don't seem to warrant buying a machine of your own, you can always turn to us for online laser cutting.