Laser cutting projects can be executed by anyone with a desire to do so. Although the manufacturing may be best left to the professionals, anybody can design what they want. Maybe you need something practical like the custom phone stand in the picture above. Or do you want to make a personalised gift? We're here to help and provide some ideas.
How to Execute Your Laser Cutting Project?
First, you need some CAD software. We have compiled a list of different free CAD programs to get you started.
Next, it is important to know how to make a drawing that is suitable for manufacturing. But don't be afraid, the drawings are very simple. You don't need to know anything about dimensioning or providing different views. A simple 2D flat pattern will do.
Lastly, it is time to get the parts manufactured. You can do it here with ease. If you have any questions, you can just check our instructions to get a price quote online. Following it will give you a price quotation in less than a minute.
Laser Cut Screens and Panels
Screens and panels make for a nice decoration inside your bedroom, living room or outside. Google provides a variety of options to choose from but there may be nothing to match your exact wishes. The solution is to derive some inspiration from existing options and design your own. Of course, it might be even better to start from scratch, so your mind is not polluted by products you didn't like.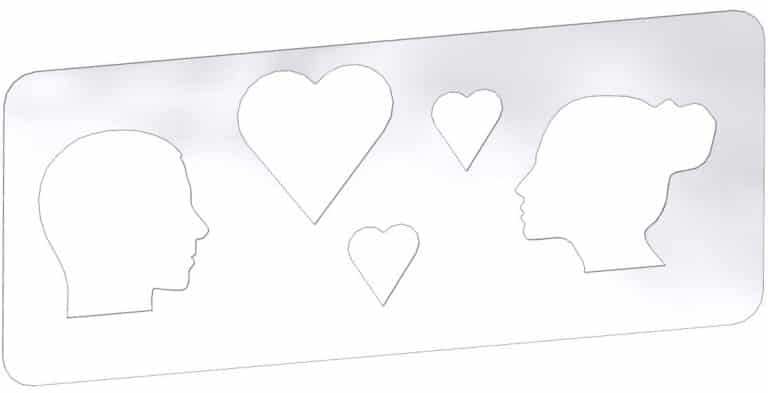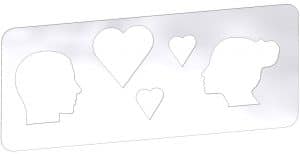 We made an example panel. This one could be a mainstay at your bedhead, dividing the sides with love. Admittedly, this may not cater to your taste. That's why we are writing this post. One thing to keep in mind here is the material. The dimensions for this are 1200x500x2 mm. This gives it a mass of 6 kg, if you use structural steel. Aluminium halves it.
You could make something similar as a screen to fit your window. Every evening the sun shines through and reminds the husband on cooking duties that this is not a chore, but an act of love for the other side.
Custom Furniture
Many of us have a grandfather who built a house with their own hands. Now we want to make something as well but the house is already done. Next best thing is furniture. A lot of guys have tried their hand on lathing and carving wood at school but making beautiful cabinets is another level. Join forces with your partner and think what your dream home decor would look like.
A good way for getting a nice end product is combining metal and wood. You can cut the wooden parts to length and varnish them yourself, while getting some framework done by professionals. Still, you can make those simple drawings yourself. All you need is a little imagination, or Pinterest, to get going.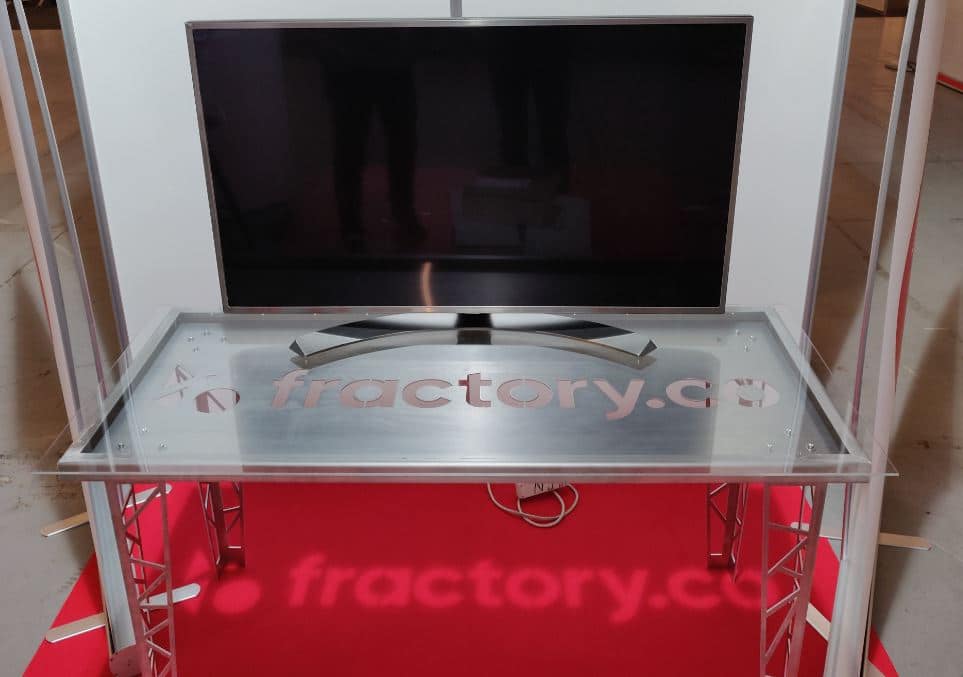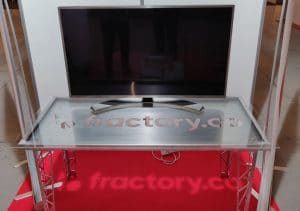 Here is one example of a custom laser cut desk. As a laser cutting company, we felt obliged to use the resources for our own sake. This is a simple aluminium construction with a few bends. Aluminium made it light, so rearranging the office is a piece of cake. The brushed surface avoids excessive reflection and we used acrylic glass for a suitable working area.
For more advanced projects, you can combine sheet metal cutting with tube laser cutting.
Laser Cut Art and Gifts
Requests for art projects are quite common for us. Why? Because finding manufacturers is often difficult for artists. Their drawings may not always be up to standard and extra communication is seen as a waste of time by manufacturers, as a constant flow of projects is not anticipated.
Our online laser cutting tool does not discriminate. Just follow the instructions we gave you at the start of this post and you'll get your stuff delivered.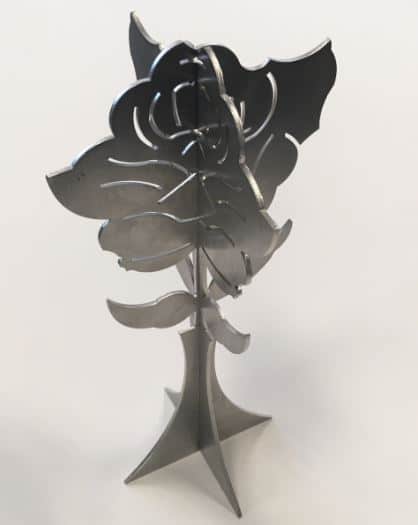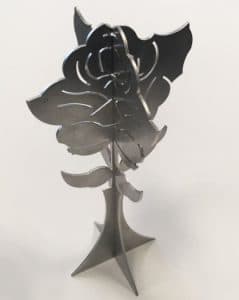 Art is a delicate matter where looks is of uttermost importance. Therefore, you can easily ask for different surfacing requirements, use stainless steel to make your stuff long-lasting or choose your favourite colour with powder coating.
The material of the rose is stainless steel. The surface is brushed, giving it a nice matte look. Every Fractory employee's mother got one and to be honest, they were pretty happy to receive a gift like that. At last, their boys had used mechanical engineering skills for a worthwhile cause.
Wedding Invitations
There is a new trend of sending out wedding invitations done by laser cutting. If you think I am making this up to lengthen the post with rubbish, look at this. Beautiful masterpieces, aren't they? Although they look elegant, the groom may want to have a say here.
Do it yourself is the key word combination for many weddings and why not expand it to invitations? You can make a very bold manly version from thick steel or a more sophisticated one made of brass or copper. You can cut engraved letters as well as through the material. Whatever suits you.
Signs and Logos
As you already saw, we included our company's logo in the desk design. We have still another example of a separate logo cut into a piece of sheet metal.


This kind of projects are the simplest to execute as they don't need any bending, so a collection of lines is enough to get the result. Just make a few bolt holes to each corner, mount it on a wall and illuminate the backside. Now you have a custom sign that fulfils your wishes. No need for back-and-forth e-mails with a designer who doesn't really understand what you're describing.
It is important to remember, again, that outdoor signs have to resist the conditions. Choose the materials wisely and know what cutting methods are right for each material.
Best DIY Websites
We included some of our own favourite into this list and dug around to find some interesting new DIY sites for different crafts.
While these are all good sites, we encourage you to also check out our article about the best websites for mechanical engineers. You can find many more great sources there for new ideas and solutions to bring your vision to life.
Instructables
Probably the most well-known DIY community. Has everything for a mechanical engineer but is not limited to that only. There are cool projects in the workshop and technology section. If you like, you can also learn to cook new cuisines, whatever interests you.
IKEAhackers
Basically, this site is about improving IKEA products. Has lots of different projects that have taken something from IKEA as the basis for the project. This is an easy way to get started as you don't have to make everything from scratch. Although it is mostly for wood projects, don't forget that you can always use custom metal solutions for a long-lasting improvement.
doityourself
Do you want to make anything? Yeap, this is the place. Like Instructables, it has everything at one place. You can start with concrete and asphalt repairs and end with knitting (sewing? whatever) your own curtains.
Makezine
Regarded highly in engineering forums. Mostly focused on electrical projects that use an Arduino or Raspberry Pi. The instructions are very clear, though. So even if you don't have much experience with these toys, don't hesitate to try!
Ana White
Makes all kinds of nice furniture that come with instructions in video form. A cool feature on the page is sorting projects by cost, skill, style etc. In short, you can find something suitable pretty easily. Again, most of the things are made of wood but you also have the laser cutting capabilities at your disposal, so slight modifications for the better are always welcome.
Mechanical Elements
An interesting website that offers great production blueprints for little money. But they are worth it – fully engineered with illustrated instructions and complete detailed drawings. The focus is on trailers and shop tools but they have quite a few other projects up there as well. For ones to appreciate full attention to detail, this is the place.