A full year has passed and we are back with another edition of promises for the next year. There are plans to further grow the business but also develop the platform. We have listened to your feedback and requests, so there's definitely something for everyone to look forward to.
We'll first see how we fared with fulfilling the promises for 2019 and then head on to our goals for 2020.
What Did We Achieve in 2019?
As a company focused on growth, 2019 was even more turbulent than 2018. But in a good way, of course. We are making great strides towards accomplishing our long-term goals by reaching many of the mid-term targets along the way.
So here's what Fractory did over the last year.
The Platform
We set 4 goals related to the development of our platform for 2019:
Applying machine learning for more accurate pricing for complex parts
Add automated pricing for bent parts
Accept native CAD files for quoting
Make past orders available for re-use and allow multiple quotes at once
Machine learning and artificial intelligence are seemingly being used everywhere at the moment. As one of our customers Andrei Danescu from BotsAndUs said, the reality is that there's little substance behind those claims. And we now know why.
Implementing AI that actually manages to provide exact calculations and add value to our cloud manufacturing service is difficult. Therefore, we are still working on it and a full implementation will take longer than we first expected. But we'll get there.
Automated bending quotes? Done. You can now upload your STP files for instant quotes. What really makes us stand out from our competition is that we don't need any manufacturing drawings to go along with the STP files. We generate these ourselves, so you can save more time in the "drawing room".
Accepting files native for programs like Solidworks, Solid Edge, etc. has moved into the future. We know that converting native files to STP takes time, so it's still in the pipeline.
And lastly, you can now re-use past orders and initiate different quotes simultaneously. Also, saving quotes is available. This means that you can save the price offered for a certain period of time – even when our algorithms change in the meantime, you can accept the quote at a later point.
New Markets
Our goal for 2019 was to enter the UK and Germany. As you all probably know, we are half-way done with the plan.
Fractory established its first foreign office in Manchester, UK. As it was a new experience for us, we had a lot to learn along the way. And we are still learning.
But the UK market has been very welcoming and after overcoming the first hurdles, we have grown our network of local manufacturing partners from nothing to 15.
We are thrilled with how the onboarding of new customers is advancing. The UK market has shown us that even the first orders do not have to be for a single part. Our growing reputation and factor of trust are now bringing in the first large orders.
Expanding the Team
We promised to double our IT team in 2019 and did exactly so. A year ago, we had 3 IT engineers at Fractory and now we have 6.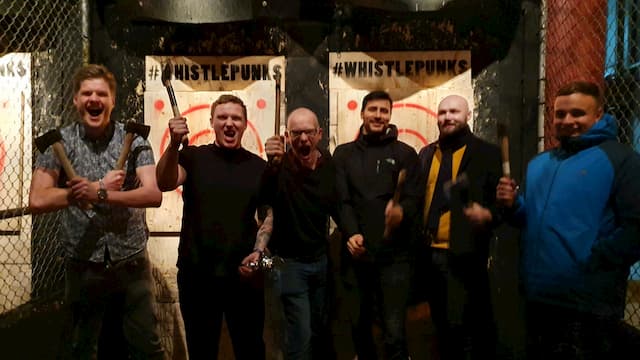 With a growing reputation, our company sparks an interest in specialists we need for the different departments. Therefore, we were able to add a whole team of sales engineers to the UK.
In total, we now have 24 people working at Fractory. Compared to the 9 people from a year ago, this is a great leap forward, as all the newcomers are contributing to a better service.
Quintuple the Client Base
So this is what we thought was possible. And this is exactly what we did. By the end of 2019, we have a little more the quintupled our customer base.
More Than 300,000 Parts
Last year, the number of unique parts was 100,000 and this time around we reached more than 300,000 units.
We managed to make parts for all types of different industries – from factory machines to robots, cars, ships, etc. The in-house expertise is growing and the prowess shows when customers need consultation from our sales engineers.
Capital Raised
Fractory is a startup with a solution to a real-world problem. We are always aiming to improve the platform, our own internal systems, etc. to provide the best possible service to you. Accomplishing this needs a helping hand from investors.
This year, they showed their support by investing a 7-figure sum towards making our aspirations a reality. We are very proud to have the backing of this international bunch.
Prizes
Fractory's growth didn't go unnoticed with juries either. That resulted in some prizes at different competitions:
We value all those achievements but the Best Use of Tech Award stands out. It was a great honour to be named the winner in a category that included companies from different industries and backgrounds. Also, the British Chambers of Commerce boast a total of 75,000 member companies which makes it that more special.
What is Going to Happen in 2020?
We now have a bigger team that can support an even more rapid growth. So we have set higher aims for 2020 in terms of business success and platform development.
New Functions on the Platform
Lathing and milling are going to be added as services we offer. Full automation of the pricing may take time but we have the confidence and experience to take on the challenge.
You will be able to upload assemblies for pricing. Which means that our system will recognise each part in an assembly and give the prices accordingly.
Laser cutting is not limited to sheet metal only. Therefore, we are going to automate the pricing of tube laser cutting. A lot of you have requested for this option and we are currently already working on providing a solution.
But we also have a few operations to automate when it comes to sheet metal. One of them is counter-sinking. At the moment you still need manual quotes for parts with threaded holes. That won't be the case later next year.
Some time in 2020 we will also implement a saved parts system. Every time you upload something, it is saved to your library and you can then always pick up these parts from the library when making a new order. As each company has its own standard parts, it would definitely make life easier for many of you.
You will soon have the opportunity to create company-wide accounts. Shared accounts make it easier to monitor the progress of each project and handle the payment side more conveniently.
Automated reclamation processes will make your life easier. We know, quality is of utmost importance but hiccups do happen in the manufacturing realm. Streamlining the reclamation process will ease your burden in those unfortunate instances.
New Markets
So we now have some experience under our belt when it comes to market entries. And we are going to put that experience into practice sooner rather than later. Keep your eyes open for some exciting news!
Expanding the Team
Of course we are also planning to continue adding new members to our team. In the coming year, we will double our staff numbers.
A lot of emphasis will be on sales engineers again but every department will need reinforcements when expanding the business.
Quintuple the Client base
Yes, we are keeping the same goal of a five-fold increase in the number of customers. Definitely ambitious but also doable.
Holidays
Firstly, we want to wish everyone happy and quiet holidays! We hope to see you back next year to continue this journey with us.
If you are one of those people who seeks an edge at a time the competition is resting, you can rely on us. The automated platform is online and ready for quoting. Get your metal fabrication services from us!